The birth of a book is a reason to celebrate for a writer.
Look what arrived in the mail the other day from Barbour Publishing – Let Every Heart Prepare Him Room – An Advent Devotional – written by of all people – me.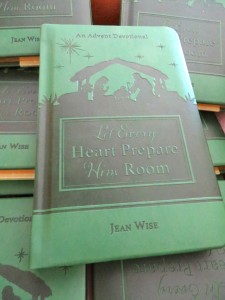 Holding a book that you write is a humbling, exciting, scary, awesome experience all bundled up into one gigantic YIPPEE!  Late last fall I woke up early, often 5 am, prayed for help and wisdom and pecked away on the keyboard on this project. Then months go by and you almost forget about it when it magically appears and brightens your day.  I am giddy today!
Now my prayer is that its words brighten the Advent season for all who read it.
The book is available on Amazon and I am sure other sites.  There are 28 devotions, plus quotations, prayers and practical tips for the Christmas season.  I know some of you write reviews and I would appreciate any book reviews and passing the word around promoting it. 
I know I am jumping too far ahead on the calendar  – we haven't even seen Labor Day yet but I just had to share my excitement.
So since you all put up with me in this celebratory post I will send a copy of the book to one commenter chosen by random.  Leave a comment by answering the question below by Sunday evening 6 pm and I will draw a name.  
What is your favorite book of the Bible and why?