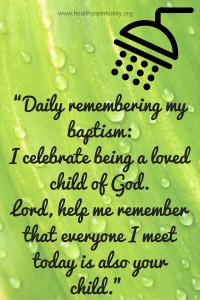 Ahhh, hot water.
I had a hot shower this morning.
Now that may not seem like a miracle or breaking news to anybody, BUT our hot water tank died two days ago. We haven't had any hot water. No steaming morning shower. My daily ritual disrupted.
Cold water sponge rinses to the face.
Dishes left dirty in the sink.
Hands washed using anti-bacterial hand cleanser.
Today we returned to normal with the installation of a new hot water tank. Simple modern convenience I too often take for granted. But not today.
I felt blessed this morning with hot water.
Ahhh, hot water.
I have a spiritual practice of remembering my baptism daily in the shower.
As water drenches my body and soul I say out loud:
"I celebrate being a loved child of God.
Lord, help me remember that everyone I meet today is also your child."
Now I could have kept saying that without the shower, but somehow the effect of cascading, delightful, refreshing jets of water brings me into this praising of our Lord.
Thank you for hot water, Lord.
I wonder what else I fail to appreciate:
The attention of my hubby.

The phone calls/texts from my kids.

The voices and kisses of grandchildren.

The beautiful colors of fall.

The crunchy taste of honey crisp apples.

The aroma of coffee.

The hugs and smiles of friends.

The freedom to worship.

Food on the table.

To walk without pain.

Working Wi-Fi and ease and convenience (usually) of my computer.

How easily the car engine turns on and runs without difficulty.

Being to afford dental and medical care.

And of course, hot water!
What everyday items are you most grateful for?