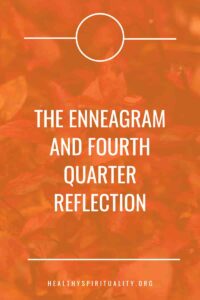 Reflection is an essential spiritual practice. The Enneagram offers insight and guidance in how we are motivated and how we see the world.  I know some people are suspicious of this tool but like any assessment if we remember it is only one way to gain self-knowledge.
When we live a reflective life and the more, we grow in understanding ourselves, the more we discover the true self deep inside us created by God. I found the Enneagram helpful in peeling away the layers of false narrative covering my soul and leads to reflection.
Recently I read the new book by expert Beatrice Chestnut and Uranio Paes titled The Enneagram Guide to Waking Up – Find your path, Face your shadow, Discover your true self.  This book presents a concise overview of the enneagram and chapters on each number. I do like how each chapter contains key patterns, and the strengths and shadows of each type. A good book for beginners and to add new insight for others who have studied this tool previously.
The leaves are beginning to change in NW Ohio and soon will fall in showers of colors. Transition is in the air. This is the season to pause, reflect and listen to our souls. To read books like on the Enneagram, to peek behind the masks we all wear. To behold the fast-approaching end of the year and the step into a new one.
To pause, journal, and pray about questions swirling around. I am drawn to reflection.
What yet needs my attention?
What is life-draining and live-giving for my soul?
What attitude, self-talk, self-imposed narrative is past its prime and time to let go?
Which 'seeds' have grown and which have not thrived?
What types of 'seeds' might I incubate over the winter to be ready for spring?
Where can I cultivate more balance or support?
What matters most to me and where is God inviting me to stretch and grow?
What has been my greatest blessings so far this year?
I neglected my journal for a while this summer, but recently dusted it off and reread reflections written earlier this year. I asked God for insight, healing, forgiveness, and grace to hear him in that old ink and to lead my thoughts and words in fresh strokes of the pen.
Living reflectively. What reflections are stirring in your season?