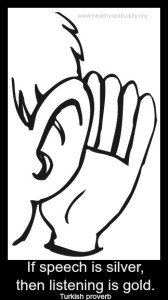 We live in an age besieged with communication devices – smart phones, Ipads, pagers and emails that chirp continuously.
Facetime, Skype and voice mail.
Twitter, Facebook and I-messages.
Some people even still talk in person. LOL
It seemed rather incongruous that in a society of supersophisticated communication, we often suffer from a shortage of listeners.
Erma Bombeck
I listened in church on Sunday. I sit up front since I help with the opening worship and the children's sermon, so the entire congregation is behind me. I can't see them when I am in the pew as my back faces them, but I can hear them. And I listened Sunday.
I closed my eyes and felt the beat of the music. I heard the preschoolers' innocent voices recite the Lord's Prayer. I caught the swish of the hymnal pages being turned behind me. My ears picked up the voices of fellowship, worship and prayer.
I listened this Sunday.
I thanked God for the amazing gift of hearing.
Sometimes, maybe even too often, I complain about noise. But today I am grateful I can hear.
Huffington Post Good News ran this article and video last week about the amazing moment when a deaf person hears for the first time. When I finished watching it, I was even more grateful for the gift of hearing. Take a couple of minutes to watch it there. (sorry they do start with a very brief ad)
I wonder if God delights when he hears my voice.
I wonder what it will be like to hear God face to face someday.
I wonder what miracle I am missing when I don't listen deeply to the person right in front of me.
Opportunities are often missed because we are broadcasting when we should be listening.
Author Unknown
Listening is like the shadows of a painting, adding depth to the scene.
Listening enhances core emotions – the joys and anguish of a moment.
Listening connects us to one another in ways we don't often understand, but somehow know its truth.
I plan to listen this week. I want to take the time to appreciate the "spring is almost here" chirping of the birds, the relaxing chanting of a cat's purring, and even the rhythm of my hubby's snoring.
I will give thanks when my car starts. When I get a phone call from my grandchildren. When I hear coffee being ground in the kitchen.
I will be grateful for laughter, the splatter and splash of water and maybe even the buzz of the alarm in the morning.
We have so many abilities we take for granted. For this week though, I will be thankful for the gift of hearing.
What have you been thankful for lately?