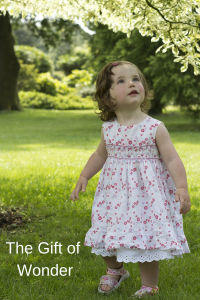 This year I am exploring three WWW's – Wonder, Wisdom, and Whimsey. Imagine my excitement then when I discovered this new book by Christine Sine, The Gift of Wonder – Creative Practices for Delighting God – her words piqued my interest and made my day.
The Gift of Wonder is available for preordered now and will be released March 26.
Reading what authors give as their dedication often gives the reader a glimpse into their heart – Sine writes "to all who are learning to laugh and dance and play with God."  Isn't that fun?
In a more serious note, she writes, "We suffer from play deprivation, nature deficit disorder, awe depletion, compassion fatigue, imagination suppression, and more. As a result, I think we suffer from God deprivation too. I am increasingly convinced that rediscovering our inner child is essential for our spiritual health. It has become an important and delightful journey for me and is the central theme of The Gift of Wonder.
"Awe and wonder, imagination and curiosity connect us to the God who is present in every moment and everything in a way that nothing else can. They enrich our contemplative core and expand our horizons to explore new aspects of our world and our God. Believing in a God who loves to plant gardens with dirty hands and make mud pies to put on the eyes of the blind, or who does happy dances and sings with joy over all of humanity and in fact, all of creation has revolutionized my faith."
One of my most favorite aspects of this book is the questions Sine gives us to prayerfully consider. Asking questions helps me pause, listen to God and is a Lenten practice I take to heart. She even mentioned in one chapter the spiritual practice of asking questions.
Questions open the doors to healing, insight, and inspiration. Here are a few questions for you too to take into your journals, prayers and time with God:
What are the childlike characteristics that bring God joy and make us fit for the kingdom?
What do you enjoy about God?
What are you choosing that gives God joy?
What if finding joy in the divine presence is the greatest way to glorify God and become who God created us to be?
What if becoming like a child is a pathway, and what if we reshape our spiritual practices with this in mind?
What about me gives God joy?
What do I enjoy doing that makes me sense God's pleasure?
What questions are you asking that spark wonder in your life? Are there special questions you are pondering during Lent? Let's share and discuss ways to see, capture and experience wonder.
PS. I have compiled 18 quotes about Lent that I am using in my journaling, prayers and times with God. If you want a free copy of these words of wisdom, just click the button below. Thanks!