Reading other blogs and newsletters, many goal setters select a word or three words to guide their year. I haven't had much luck with this idea until this year when the word – Formation – kept bubbling up in my heart.
So in 2011, I am pondering the word: Formation.
Yet soon images bombarded me: The Potter's Hands.
So not only do I have a word for the year, I now have an image.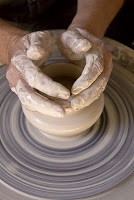 "O Lord, you are our Father, we are the clay, you are the potter, we are all the work of your hand." Isaiah 64:8
Look at these images: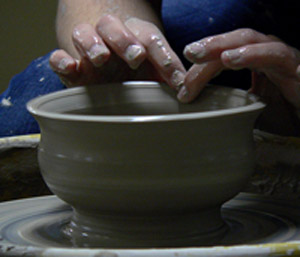 Lord you are so tender and loving in my formation. I trust you.

Lord you know just the right place to apply pressure to form me in Your image. You will not fail me.

Lord I look at Your hands, so covered with all the stuff and muck of my sinful self that hinders my growth.
Thank you for removing it even if it hurts.

Smooth my rough edges, Lord. I bend to Your skillful handiwork.
I don't know where God is leading me with this word and these images but I will ponder them and listen.
Do you have a word or image to guide you?