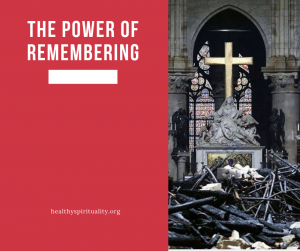 Many of us watched in shock, sadness, and heartache as Notre Dame burned on April 15. Fixated on the scene, I couldn't imagine the horror, destruction, and grief from this tragedy. The years of worship and the deep identity of a symbol for the French blazing to its ruin.
Remembering – The Cross Still Stands
But Notre Dame wasn't completely destroyed as we learned the next day. I love this photo, showing the burned wooden beams from the collapsed roof crumbled at the foot of the golden cross. The headline in the secular papers read -The Cross Still Stands.
Amen!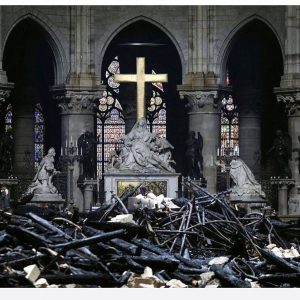 No matter how our world is abolished around us, our lives in defeat or we are overcome with hopelessness, God remains.
Then stories emerged. One report told of a human chain of firefighters and the firefighter chaplain risking their lives to enter the burning cathedral to find and rescue key artifacts and priceless treasures from the engulfed church.
The human chain image reminded me of how we are all linked from one generation to another. Past. Present, Future. Those brave souls ventured into the flames, not just for us now but for those who lived decades, centuries before us and for those yet to come. To keep the story alive how Christ died for us and defeated death so we could live on and on in a holy human chain of life.
Those firefighters remembered. Remembering is a powerful spiritual practice.
Remembering
To remember is to keep something in mind.  "Re" means again and "memor" is Latin for mindful.
I like to call this practice – Holy Hindsight. The power of remembering often hides its wisdom at first. During the day of the fire, we had no idea that the end result would witness to the world that the cross still stands. It is hard to find positive results when our hearts are breaking. Remembering reveals its power in hindsight. In remembering.
We bring to mind (and heart) a person, place, thing or important event through the eyes of God. We seek, even in tragedy, destruction, and anguish, a sacred, meaningful lesson that shapes our lives. We ask what does this make possible?
Remembering reminds us of God's presence even in dark times. Remembering affirms hope and trust even in the midst of confusion and doubt. We remember God's promise to be with us all the time and his faithfulness and grace.
"Thinking back through time can be like reaching into the dark, murky water with no idea of what your hands will come across a lovely shell or something with spines and venom. Remembering, like all matters spiritual, requires imagination, trust and courage."
Margaret Bendroth
Spiritual Practice of Remembering
God teaches in the scriptures over and over again to remember. Throughout the Old Testament, remembering shaped generations. This word is used more than 350 times in the Bible and twice as much in its various forms.
But God remembered Noah and all the wild animals and the livestock that were with him in the ark, and he sent a wind over the earth, and the waters receded." Genesis 8:1
"Bless the Lord, O my soul, and do not forget all His benefits" Psalm 103:2
"Do this in remembrance of me" Luke 22:19
God wants us to remember!
Practicing Remembering
How do we practice remembering?
Praying – talking with God about past experiences and risking reliving deep emotions with his love, healing, and presence.
Journaling – writing out what happened.  Last week I failed miserably in helping another person as I focused more on my needs to get home and to get things done. My stomach churned as I thought about her tears later. I heard God gently tell me to write out what happened in my journal – and I quickly procrastinate a couple of hours before finally obeying. Putting down the words on the pages and asking for forgiveness, drained the shame and guilt away and God gave me insight that I didn't recognize at the moment.  The self-centered layer of ego peeled away from my calloused heart and more compassion surfaced. I am sure my heart still is wrapped with many crusts yet but slowly my heart of stone is softening to a heart of love.
Paying attention – God will bring a memory to your mind when the time is right. Often we need some space to heal, to cry, to gain distance from an experience. On retreat a number of years ago, God had me revisit my dad's death that occurred 30 plus years before. Observing words, conversations, talking with a spiritual director all reveal what we are to remember in a healthy safe way.
I am just learning more about this important practice in my daily living. What do you think of the spiritual practice of remembering and what ways have you practice this discipline?