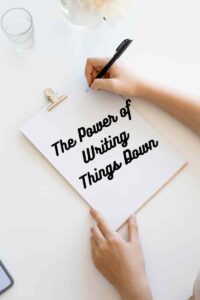 When you write things down, articulate your dreams, goals, and prayers, struggle to find just that right word or phrase that describes a deep desire, God breaks in with power beyond our understanding and our lives become more meaningful.
I noticed again this power in writing things down as I prayed, discovered, wrestled with my word of the year. Then I sense its presence in my annual rereading and summary of my journal and the listening and recording of where I felt God leading me in 2023. God appeared in sticky notes of ideas and in notations in my Bible and journal. I felt his strength and clarity as the ink dried and with each click of the keyboard.
Is it my muse or the Holy Spirit? I like to think of them as one source.
"This is what the Lord, the God of Israel, says: 'Write in a book all the words I have spoken to you.'" Jeremiah 30: 2.
Writing things down invites God's wisdom and clarity to how we think, speak, and live. I am the type of person who doesn't acknowledge the depth of emotions nor names them openly, thus often they get shelved and stuffed down inside my soul. Putting my reactions into words processes them and shows me their lessons.
Rereading and reviewing my journal from this past year yielded insights and reminded me once again how God is ever with me/us and touches my life even when I fail to notice his presence. Gratitude for all of life – even the little moments is easier to see once written down.
Writing things down creates a safe space to talk with God about hopes and dreams and slowly deep desires – God's will for me – is revealed.
The power of writing captures ideas, even the fun whimsical ones. These inklings often fade away quickly unless netted in words.
Writing things down brings peace. It is called the Zeigarnik Effect where we tend to hang on to things in our mind, if we don't finish what we start. If you write things down, you free up your mind from worrying about what you forgot or what you need to remember. Isn't the brain amazing?
Think about all the times we write things down:
Grocery lists
To do lists
Journaling
Prayers
Bible study notes
Idea journals
Creative words in a blog post, article, book or even a poem,
A thought on a greeting card
Monthly or yearly goals sheets
Love notes
Thank you cards
Sharing memories
Appointments and phone numbers
Words connect us – connect us closer to God and with one another. I am in awe and very thankful for this gift from God – being able to reflect, express, and discover treasures and wisdom through the power of writing things down.
What have you discovered lately that amazed you?