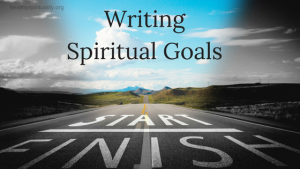 Do you write spiritual goals?  Many people shy away from the annual "what's your new year's resolution" ritual. Others swear that writing down what you would like to do is the first necessary step in becoming what you would like to be.
Ah, the controversy.
But what about writing spiritual goals?  Should we take the time to ponder where God is inviting us in the coming months? Or is setting spiritual goals too much effort on the human side of controlling our life?
I struggle with this issue of writing spiritual goals, but have decided I do like goal setting. I find writing things out gives me clarity and often I hear God better in ink that appears on my journal, more from the spirit than from my mind.  I also find I can easier let go of things once revealed in words and be open to where God is leading me.
My Process for Writing Spiritual Goals
Here are few tips for writing spiritual goals that I have found useful. After I wrote these out, I realized I have never shared this before with others – I feel a little vulnerable being so open, but my fingers raced across the keyboard so quickly and felt so right, I am going to post this anyway.
Bath the process in prayer. I plan several blocks of time towards the end of the year to spend with God exploring spiritual goals. I light a candle. I begin with Bible reading and contemplative prayer.  This slows me down to hear God.
Next, I reread my journal from the last 12 months and write a summary page of observances. I am awestruck at seeing themes emerge from what at the time appeared as separate events. I pay attention to what resonates in my heart that may linger into the next year.
Does a Bible verse shimmer in my spirit?
Is there a quote or a word that keeps repeating?
Where did I experience joy in that past year?
What happened that still shatters my heart?
How am I different? The same?
What prayers were answered and what yet waits and wonders?
3. I end with writing out a prayer full of gratitude and praise for our God.
4. The next session, often held on a different day, focuses on where God is inviting me to grow spiritually in the coming year. Again, I begin with readings and contemplative prayer. I approach this process as if I were walking on holy ground.  Often a theme or verse appeared in the first day and I rewrite that in my journal to frame my thoughts. Many times, I write out questions that emerge and one year I fill entire pages with questions and no real answers. Each year is a little different from the others. The pages become multiple prayers, conversations between the Lord and me. I mention upcoming events and my dreams how these might be used in his work.
5. I review my Rule for life. This gives me a framework for my faith walk. I have written about Rule of Life before here, here, and here and have this resource for free for you if you are interested in learning more about this practice. Just click on the button below.
Click here to get your copy of the Rule of Life template
6. What I have discovered through this process is that my deepest desires and dreams bubble up from inside myself. The fake "Jeanie," the false self, the ego-driven mask falls away and a simple soul just talks with her Creator about what the future might bring.
7. Over the years much of what I write about my hopes haven't changed that much: I ask for blessings for my family, guidance for my writing and speaking, help for a deeper and closer walk with my Lord. Too often weight is also mentioned – year after year after year.  SIGH. I find most of what appears in this process isn't more to do, but how to be. How to be me, living each day as the beloved child of God who wants the best for me and asks that I come alongside him in his work in the world.
And always one prayer that materialized in my journal at a retreat several years ago visits me once again:
"Do what you need to do in order that I become what you best choose for me. Give me an undivided heart, fully devoted and dependent only on you."
8. I end with prayer. I listen. I write out what I sense the Spirit is telling me. I literally close my journal, holding it up with open hands into His hands, letting go of my expectations and being open and willing to be his servant. It is about God, not me.
Where do you feel God in leading you in 2018? How do you feel about writing spiritual goals?