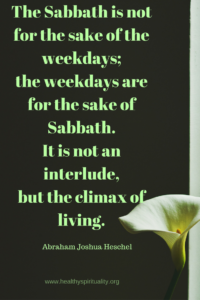 How can we practice the rhythms and rest of Sabbath?
In November, Sabbath has been the theme for Healthy Spirituality's Tending the Holy Thursday series where I highlight a spiritual practice or a person(s) of faith for several weeks, so we can explore the topic with more depth. It is my hope and prayer we all can learn something new, gain ideas, and be motivated to dig deeper into this practice.
As usual with each month's theme, I have an additional FREE download for you. I knew I wanted to learn more what the Bible said about Sabbath and was surprised at the number of verses referring to this practice. Then I began to dive into quotes from the writings of others who pondered this topic and I was amazed at the nuggets of wisdom I discovered. So I compiled them for you into a PDF called "Quotes and Verses to Ponder About the Sabbath" and you can obtained this resource by simply clicking the button at the end of this post.  I hope its words deepens your exploration.
Finding the Rhythms and Rest of Sabbath
The thoughts and tips about Sabbath today comes from Shelly Millers new book, Rhythms of Rest, Finding the Spirit of Sabbath in a Busy World.  Shelley created a Sabbath Society a few years back where she shared her own exploration of practicing this sacred time and led quite a few interesting discussions how to best find the rhythm of this sacred pause in our crazy schedules. Her book rose from real life interaction and applications of this discipline.
I encourage you to read Rhythms of Rest and here are few highlights
Are we using busyness to avoid what is really important?  Shelley writes, "busyness in the wrong things ultimately leave us completely unprepared for what is most important…Sabbath is weekly preparation and anticipation for making space in our lives for Christ to come. Sabbath rhythms are general gifts; they are not about guilt."
Taking that first small step can be difficult but is essential to start someplace.  "Starting is the hardest part of any good intention towards creating new rhythms. We begin a little uncertain, doubting we'll be able to rest because of the work stacking up. But the more we plan the path and organize the journey, the more we will begin to walk our days toward Sabbath instead of away from it." I like Shelley's gentle invitation to enter this sacred practice slowly and in small ways.
How each of us "does" Sabbath is unique.  "God is less interested in how we spend our Sabbath than that he has our undivided attention. God longs for our presence with him…More than what we do for him, he longs for us to be with him, to trust he is working all things together for our good…When we abide in Jesus all our question about HOW we Sabbath are answered in WHO we worship."  Isn't that a freeing framework for this practice?
Consider what myths we are believing about Sabbath.  Is it all boring long silence and stillness? Is it only possible once the to do list is completed? Is it only for the "holier than thou" among us? Is it only on Sundays and only if you can carve out a full 24 hours? "Sabbath isn't another rung on a spiritual ladder we climb toward achieving smiles frm heaven. No, it isn't what we do at all. God invites you to rest because he loves who you are."
Sabbath shifts our focus from what we do to who we worship.  "Sabbath is a weekly reminder that God cares more about who you are than what you do."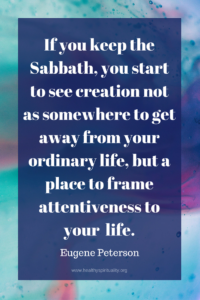 Questions About Sabbath
I believe in the power of pondering deep questions. They help us dig deeper, take off false layers we hid under and reveal the beauty deep inside each of us.  Shelley has a list of wonderful questions to consider when honoring Sabbath. Here are a few examples that resonated with me and hopefully linger with you too:
I admit that in the past I approached Sabbath as a suggestion or an elective instead of a commandment. How have your views about Sabbath been shaped in the past?
How do you respond to things being left undone in order to rest? Is guilt a factor in choosing not to rest?
Have you ever thought about Sabbath as a weekly invitation for conversation with the Creator, not only for you but for others? Does this idea change your perspective about how you approach a day of rest?
What are some of the practical ways you can begin to include pausing or solitude during the week?
I want to write at least one more blog post about Sabbath, but with next Thursday being Thanksgiving in the U.S. I will complete this topic on an upcoming Tuesday. I share some final tips and lessons about this practice.
Don't forget to download your free copy of the "Quotes and Verses to Ponder about Sabbath" by clicking on the button below. I compiled 100 interesting words of wisdom about this discipline.
Click Here to Get "Quotes and Verses to Ponder about Sabbath"
How has this series on Sabbath changed how you view this practice?
P.S. I still need more of you to complete the readers survey. I value you input. Click here for this year's survey. Please complete it before the end of November. Thanks so much.