The Sounds of Dachau Concentration Camp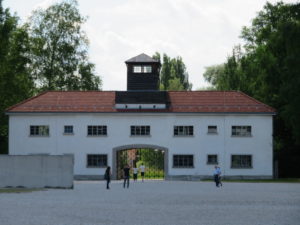 Sometimes our life lessons aren't written in words. Sometimes no words are spoken or necessary. The sounds and the silence become the teacher.
When our tour guide on our recent trip to Germany announced we would be making an extra stop at the Dachau Concentration Camp, I wasn't very excited.
My hubby and I visited Dachau ten years ago. A bitterly cold wind plowed its chill deep in our bones that day.  I wasn't sure if my shivering came from the weather or the experience walking in a place of such death, cruelty and despair.  I really didn't want to return for a second visit. Once was enough emotionally.
Dachau
But we still arrived.  Dachau is a pretty little town about 12 miles from Munich. The area used to be known as an artist colony but in 1933, Hitler built Germany's first concentration camp just outside the town. Dachau Concentration Camp became the model for all the future camps.
Dachau now is a museum and a memorial for the tens of thousands who died there. Sigh.
Dachau Concentration Camp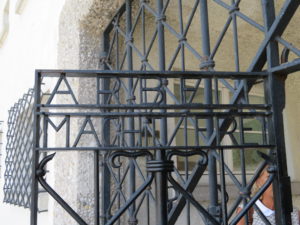 I stepped back into time as we entered its gates.

I could almost hear the Nazi's boots echoing as the gravel crunched when we crossed the open roll-call area. An eerie loneliness besieged my soul.
As we walked where rows and rows of barracks once stood, I heard anguishing sobs of a visitor surrounded by her friends. I don't know her connection to this place, but her heartbreaking grief filled the air and haunted my heart. Tears. Questions. Anger towards those who did these inhuman acts to fellow humans. Anger towards others who stood by, out of fear, did nothing. Anger at God – because he didn't stop it – at least not a first. Tears burned in my eyes when I wondered what I would have done. Would I have spoken up?

Three memorial chapels have been built more recently in the rear portion of the camp. We sat in the Protestant Church of Reconciliation that was dedicated in 1967. You walk down to enter the building designed in an intentionally broken and irregular plan to make a statement against the straight lined monotony of the concentration camp design.

Silence engulfed us. No words. Only our thoughts and prayers. I thought of the verse from Psalm 141:
Treat my prayer as sweet incense rising; my raised hands are my evening prayers.

Ironically after thinking about prayers rising as incense, our tour guide took us to see the crematorium area.
We walked solemnly through the wooded memorial where thousands were buried in mass graves.

This hallowed ground would not keep silent. The woods burst with green leaves, trees lifting their branches high in adoration and tiny wild flowers dancing across the ground. Hundreds of birds gathered there, joining in reverent songs of remembrance and praise. Their music embodying voices for the voiceless. The sounds of Dachau rang alive. New life!
Dachau Quotes and Prayers
As we gathered together back on the bus for our return trip to the hotel in Munich, we held a devotional service.
Two quotes from Martin Neimoeller, a Lutheran pastor who was confined at Dachau were read:
"I will never forget, and it will always remain as a promise with me, what happened among us in the prison cells of Dachau during Christmas, 1944. The non-Roman Catholic inmates were permitted to hold a divine serve, the Roman Catholic Christians having their own.
Altogether we were fifteen special prisoners, seven of us were-non-Catholic, and among these seven I was the only pastor. I was expected to conduct a service in one of the cells. I was not merely the only pastor, but also the only German. They were an English colonel, A Dutch minister of war, two Norwegian ship owners, a Serbian diplomat and a Macedonian journalist.
It was on the 22nd of December that we received permission for the service. In my cell, I asked myself: How can I proclaim the Christmas message to these six men so that the fact that I am a German does not from the start invalidate its effect? They all belong to nations which are filled with a glowing hatred of anything that is German!
Turning this over in my mind, I sat in my cell on December 24, and did not know what I should do and how I should begin. Then there was a knock and in cam the Dutch minister of war, accompanied by his S.S. guard, and said: "It will sound strange to you. I have come to speak to you in the name of tonight's congregation. We six have a big request for you. We would like to take Holy Communion with you after the sermon."
And there on Christmas, 1944, in the midst of war we celebrated Holy Communion together, Englishman, Norwegian, Dutchman, Serb, Bulgarian and one German.
"Peace on earth to men of good will," to men, who through Jesus Christ the Savior of sinners, have been given the Peace with God."
"First they came for the communists, and I did not speak out–
because I was not a communist;
Then they came for the socialists, and I did not speak out–
because I was not a socialist;
Then they came for the trade unionists, and I did not speak out–
because I was not a trade unionist;
Then they came for the Jews, and I did not speak out–
because I was not a Jew;
Then they came for me–
and there was no one left to speak out for me." 
With the sound of Dachau reverberating in our hearts, we sang the hymn "Healer of our Every Ill" with the lyrics
Healer of our every ill, light of each tomorrow,
Give us peace beyond our fears, and hope beyond our sorrow…
The sounds of Dachau Concentration Camp.
I hope you are enjoying this series of reflections from my recent pilgrimage to Germany. I will conclude them this Thursday.  Along with this series this month, I compiled into a free download some of the German Prayers, Blessings and Quotes we used on the trip or that I found elsewhere. Please just click on the button below to get this resource and I hope you enjoy its words.
 Click Here to get the resource guide! Thanks!
Next week I am changing up the scheduling of Healthy Spirituality and posting Monday through Friday (yes, five days for only one week!) for a special series called Spirituality Summer School. We will be exploring how to slow down to be with God.  I hope you join me here on the blog AND on my Facebook author page where I will be broadcasting live at 1:30 eastern each of the five days. YIKES!  I have been asked and yes if you miss the live broadcast, I hope to have replay there so you could make fun of me later watch me later.
I think you can tell my second visit to Dachau, especially the silence and the sounds, lingered in my soul. Even as I wrote this, I could still hear the birds singing their hope as the reality of where I was unsettled me. The line – be a voice for the voiceless – throbs in my heart.
What experience haunts you? Did the sounds or lack of sound intensify the experience?