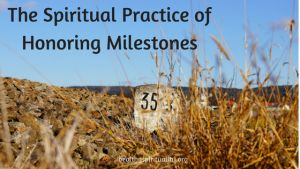 We have been planning for more than a year now. This coming Sunday our church is celebrating a major milestone: 150 years of worshipping God.
The pews will be packed. Music sung. God praised. Friendship reconnected. Too much food consumed. Memories cherished. A moment to recognize, affirm and honor.
Remember to celebrate milestones as you prepare for the road ahead.
Nelson Mandela
 Thinking about Milestones
This celebration stirred my pondering about milestones. Milestones are significant markers in our life journey. We stop, name and hold that moment in a sacred way, then move onward into the future.
Milestones offer us a chance to reflect, rest, and release. Many milestones are joyous times but they can also be times of sadness and loss. We say goodbye to the past and turn the page to a new chapter.
The word milestone dates to the Romans. They built more than 53,000 miles of roads throughout their empire so every 1000 paces or about 4800 feet, a stone marker was places. Travelers were then able to judge their distance; how far they walked on a journey.
Literally a milestone would be placed every mile and even today we can see mile makers on the side of our highways. Milestones mark our progress and achievement. We use the term milestones to mark significant events in our lives and possibly a turning point.
Biblical Milestones
In the book of Joshua, we hear a story about milestones.
When the whole nation had finished crossing the Jordan, the Lord said to Joshua, "Choose twelve men from among the people, one from each tribe,  and tell them to take up twelve stones from the middle of the Jordan, from right where the priests are standing, and carry them over with you and put them down at the place where you stay tonight."
In the future, when your children ask you, 'What do these stones mean?'  tell them that the flow of the Jordan was cut off before the ark of the covenant of the Lord. When it crossed the Jordan, the waters of the Jordan were cut off. These stones are to be a memorial to the people of Israel forever."
 Joshua set up the twelve stones that had been in the middle of the Jordan at the spot where the priests who carried the ark of the covenant had stood. And they are there to this day.
Joshua 4: 1-3, 6-7, 9
Joshua marked an important event in the lives of the Israelites – one they were to remember. They were thankful and joy filled. A new land awaited them. Fresh beginnings. A gift from God. Yes, they celebrated.
Milestones are to be remembered and honored.
Life's Milestones
When I first began thinking about life's milestones, significant moments from childhood were easy to capture. Kids experience so many firsts as their lives unfold.
New birth
First breath
First step
First word
First haircut
First day of school
First date
First driver's license
First job
First kiss
And onward.
I thought adults may not have as many milestones but then I began to brainstorm:
An anniversary
Ringing the bell after completing cancer treatment.
New car
Key birthdays – or simply accepting the age you are now, knowing many are denied the privilege of years. Love the saying "Don't complain about growing old – it is a privilege denied to many."
Releasing a burden or outdated belief:
One of my big milestones came when I turned forty and promised myself to stop worrying about all the things I thought I might do but never really would. I was very relieved when I realized that you can actually complete a project by dropping it. That's how I "completed" learning to cook and learning German, becoming a good skier, and a list of other things too long to recite!
Arianna Huffington
Completion of a project
Returning from mission field or military deployment
New job
Retirement
New calling.
Weight loss goal
Achieving regular fitness routine
Starting a local scholarship fund
Getting your first article published
Writing a book
Achieving a dream
Dancing at your children's wedding
Holding a newborn grandchild
Snuggling with loved ones
Saying no and knowing it was the right decision
Delivering a speech and knowing you inspired others.
Empty nest – affirming new stage in life.
Big or little – life overflows with milestones if we recognize them. Noticing them, pausing to honor those times, adds zest and color to daily living. Milestones are hallowed moments.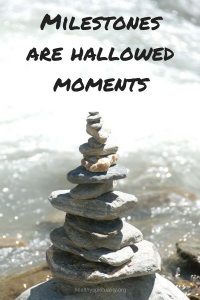 Spiritual Milestones
How do we practice honoring milestones?
First, we pay attention to them. We can help others see and celebrate these special points in life. We hold the value of holy moments in our hearts and lift them up to God, who is the giver of all milestones.
Second, we affirm them. The word "affirm" means to make steady, to strengthen, to confirm their importance. Name them, know their value, cherish them for measuring meaning in your life.
Third, we pause, hold that moment in our hearts and honor milestones in our lives. We stop and reflect on where we come from, how we got where we are today and turn to our next steps.
And last, we nod appreciation for that milestone, give thanks to God, and then move on. We keep going to the next mile marker on this journey. Milestones are not tombstones. Keep walking.
I've discovered that every time I've reached a milestone I think I'm there,
 but there is another waiting for me.
Sara Benincasa
Milestones mark the moments of our lives. Let's honor these stones along our path and thank God for providing them.
What milestones could you add to the list above? How do you honor milestones?