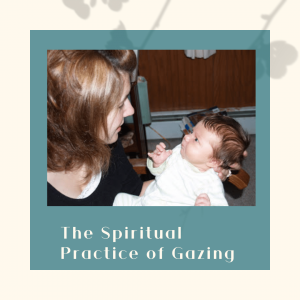 Gazing is the act of fixing our eyes in a steady intent look with focused attention. Gazing evokes feelings of curiosity, interest, pleasure, wonder and love.
One of my favorite quotes and I keep this by my computer is from Anthony DeMello:
"Look at God… Looking and you…and smiling."
Ahhh, to be present in the gaze of God, gazing back in mutual love. This is worship. This is being fully entering into the presence of God. This is communion. A moment of savoring and soaking in God's love and us loving God.
May God be gracious to us and bless us and make his face to shine upon us, Selah – Psalm 67:1
Gazing
Gazing has popped up in my reading and listening quite a bit these past weeks. I find God does that when he is drawing my attention to something important. Pay attention – God is inviting us closer all the time if we notice.
"The LORD bless you and keep you; The LORD make His face shine upon you, And be gracious to you; The LORD lift up His countenance upon you, And give you peace." Numbers 6: 24-26
I recently read a blog post about St. Ignatius and how he would be moved to tears when contemplating the stars. He wrote, "The greatest consolation he received was from gazing at the sky and the stars, and this he often did and for quite a long time. The result of all this was that he felt within himself a strong impulse to serve our Lord."
Terry Hershey writes a delightful Sabbath Moment newsletter (you can sign up here to get it – it is full of wisdom and insight). He shared this week, "Rilke once wrote of how he learned to stand 'more seeingly' in front of certain paintings. That's what I want. To live this moment more "seeingly." Pausing leads to seeing. Seeing leads to celebrating. Celebrating leads to honoring. Honoring leads to cherishing."
I agree with Terry. My deep desire is to be with God, cherishing the Lord with "seeingly" gaze.
Then this morning I listened to Ruth Haley Barton's podcast about being present through gazing.
The practice of gazing for me takes three steps.
Look – to pause even briefly, periodically throughout the day and look up. This physical act of raising my chin and lifting my eyes refreshes the soul. I type by a window opened into my backyard garden. I breath out busyness and stress and breath in God in his beauty.
A few years ago, I wrote a series on this blog about being a cloud chaser- an observer of clouds and their lessons. Looking up is an essential practice of cloud chasers and the first step in gazing
Looking leads me to gazing.
Linger – Gazing means more than just pausing; we hold these moments and stick around savoring the taste of time with God. To stay with God longer. To pause in his presence. Even just saying the word out loud slows my tongue. LINGER
Linger – what does that word mean? The dictionary defines to linger as "to be slow in parting or in quitting something; to remain although gradually dying, to move slowly." Though at first, I am attracted to the first and third definition, the reality of the second one – to remain although gradually dying – holds truth I often don't face.
Lingering reminds me that God cannot be rushed. My relationship with him is not just another item on my to-do list to attend to and scratch off for the day.
Lingering is a holy invitation to watch, learn and listen.
Lingering opens my eyes to see life in the light of hope.
Lingering opens my ears to hear and find peace in God's guaranteed promises.
Lingering opens my heart to receive this God who wants to be with me, to have a deepening relationship with me, and who wants to linger with me.
Love – Last, I open my heart and hands to receive and give love – a two-way gift between Creator and creature, both longing for the fellowship with one another. One. Unity. Communion.
My heart overflows with joy, praise, and thanksgiving.
Gazing reminds me of a mother holding, beholding her newborn child. Eyes only on each other's. A tender moment of love, on Love.
Basking in God's gaze is a powerful practice. Ponder what it means to know God gazes upon us too – in love, acceptance, and grace.
"When we lift our inward eyes to gaze upon God we are sure to meet friendly eyes gazing back at us, for it is written that the eyes of the Lord run to and for throughout all the earth. The sweet language of experience is 'Thou God seest me.' When the eyes of the soul looking out to meet the eyes of God looking in, heaven has begun right here on this earth." A.W. Tozer
When we practice gazing with God, we are known and we begin to know God. Nothing is much better than that, is there?