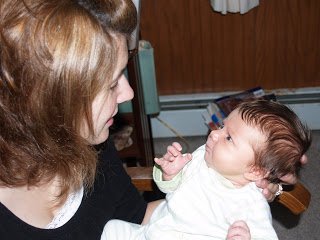 I witnessed love this week.
I watched my daughter Katie, holding her newborn baby, Kyla. With protective arms, supporting her daughter's still wobbly head, Katie smiled and hummed a quiet tune. It was like no one else was in the room. Their eyes, fixated on one another, radiated an intense love.
Amazing love. Amazing Love.
I, a mere creature, a human, can never fully comprehend how much God loves us. Yet when I observed this tender and adoring exchange between a mother and child, I caught a glimpse of the Divine.
"Listen to me…you whom I have upheld since you were conceived, and have carried since your birth. Even to your old age and gray hairs I am he, I am he who will sustain you. I have made you and I will carry you; I will sustain you and I will rescue you." Isaiah 46: 3-4
Throughout our earthly journey, God continues to hold each of us in His protective arms, supporting our wobbly fears. Like a baby's full reliance on a mother's care, our faith rests in his promise to watch over us.
"As a mother comforts her child, so I will comfort you." Isaiah 66:13
As Katie's face glowed with a tender smile, and I just knew God also smiles when he watches us. He "beholds" us, giving us His full attention. God knows the full plan so can easily smile even during our difficulties – he knows how our journey will end – once again in His arms.
"He will rejoice over you with singing." Zephaniah 3:17
I wonder what song God sings to us as he holds us tenderly in His strong arms. Just think: the God who never lets us go, also sings over us. What beautiful music that must be.
Who does the baby hear when a mother hums a quiet lullaby? Maybe Kyla can still hear God's joyous melody enfolding her heart.
I watched my daughter Katie, beholding her newborn baby, Kyla. The spiritual act of beholding God's love.
And I witnessed Love.