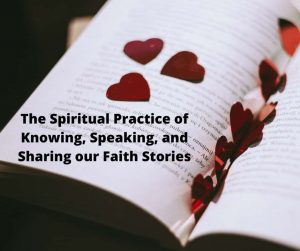 Faith stories.
Can you express your personal story of how God has shaped your life? Do you know and share your faith story? How does this spiritual practice impact both our lives and the lives of others?
Faith stories. I listen to them in conversations. I love reading them in books and articles. I lean forward expectedly when they are shared in interviews. 
Faith stories connect us with one another. Remind us we aren't on this journey alone. They inspire us to try once again. They motivate us to stand up for grace, justice, and love.
Knowing, speaking, and sharing our stories reveal how God is ever-present in our lives.
Knowing our faith story – Reflecting on how we first learn about God, how to pray, what helps us hear him gives us insight into how God is shaping us, calling us near to him. I call it holy hindsight – to review both our spiritual high points and low times and know God walked alongside us. Knowing our faith story brings healing and fills me with gratitude.
Speaking our faith story – Being able to articulate my faith helps me find just the right words to describe how God influences my life, forgives me, redirects, and teaches me and always offers me grace and love. Expressing my story verbally or in writing brings clarity and affirmation to my walk with God. If it didn't, the story hides under confusion, fear, and emotional baggage and distractions of the world.
Sharing our faith story – Writing and sharing my experiences, both the good and bad connects me with others as we all journey together. We find we are more alike than different. We see unique twists and turns in each other lives and offer grace and compassion to one another. We find hope in our collective experiences and strength in our shared troubles. Sharing our faith story with God becomes our gift back to him – acknowledging our story starts and ends with him – us all within God's story. His story cradles and nourishes our story.
Not All Who Wander (Spiritually) are Lost – a Story of Church is being released on May 17 and is written by Traci Rhoades.  Her book is the impetus for all my thinking lately about the richness found in knowing and sharing our faith stories.
In her book Traci shares her faith story within various churches and how each experience formed her, helped her learn more about God, and brought her close to Jesus. She doesn't judge other traditions but openly tastes them and chooses what is best for her at different seasons of her life.
Her examples plus many other people contributing what they most like about their faith tradition provides for much thought. She sprinkles her writing with light humor and great insight. A variety of ways to worship God is presented – like a buffet to enjoy and consume,
"We need to hear church stories, good and bad, from other people, and hold them in our hands and hearts with tender loving care."

"You're not going to find the perfect church experience. In fact, the more involved you get, you're sure to find flaws in these all-too-human establishments. Yet the local church is where Christ chooses to do his work on this earth, through the Holy Spirit who lives in the body of believers as a whole."

"How do people decide on a church home? For some, the church of their childhood is the only church they'll ever know. More and more of us, though, move on from the faith of our early days and try a new tradition…The more I examine the ways we worship Jesus, the more I'm convinced God is big enough to embrace our differences."
A good book to explore, to feed your mind and heart, and perhaps reveal new insights to your own faith story.
Sharing our faith deepens our faith.
Sharing our faith helps us know who we are and to see God's hand shaping us.
Sharing our faith in open and accepting conversations calms the divisiveness and creates bridges, not walls.
How have you gotten to know your own faith story and shared it with others and with God?