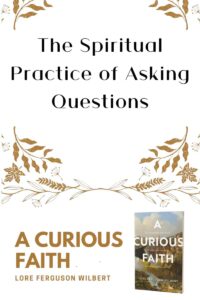 Questions! Do you have a curious faith?
Some people belong(ed) to church that discourages asking questions. As a spiritual director I have learned the power in the spiritual practice of using questions to explore, understand, and hear God in new ways.
I am a fixer and quick decider. I like the comfort of knowing answers or at least the next couple of steps on this adventure and gift of life God has given all of us. Tell me where I am going and what to expect and I will dig down and get there.
But that isn't God's way, is it?
Unanswered questions are the fertile ground of growth, formation, and surprises. I wonder why does this question nag my soul? What does it mean? What does it make possible? The best lessons emerge in the wrestling, welcoming, and wondering with each question.  
Lore Ferguson Wilbert has just released a new book, A Curious Faith, that looks at the questions God asks, we ask, and we wish someone would ask us.
Questions grow from curiosity. Trying to deepen our understanding of our faith. I believe this is actually a gift from God – the gift of wonder. And I know for my spiritual journey, I grow the most from exploring and listening to my questions rather than rushing for an answer.
In A Curious Faith, Lore writes about questions found in the Bible. Some questions are asked by God such as "Where are you?" and "Whom shall I send?" Others are questions we ask God like "Where are you? And "How long, Lord?" The final category are questions we wish someone would ask us such as "Can you wait with me?" and "What are you looking for?"
A very thought-provoking book that is full of wisdom and deep quotes. "God himself does not give answers. He gives himself." Frederick Buechner.
I saw a meme on Facebook a few weeks ago from Kevin Nye that stated "In the gospel Jesus is asked 187 questions and he answers (maybe) 8 of them. He himself asked 307. Maybe faith isn't about certainty but learning to ask and sit with the complexity of good questions."
Questions are powerful and cultivating curiosity is a practice I think we all need to work on. Listening to my heart – what questions are stirring deep inside my soul. Articulating those questions and at time discovering I am asking the wrong question. Sitting quietly holding these questions lightly and openly up to God for his light and insight.
What questions are you holding right now?   How has questions formed your faith?