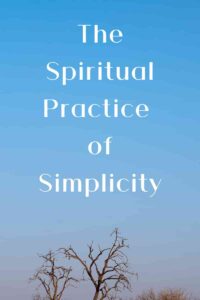 Simplicity is a spiritual practice promoted by many.  But I am going to be honest – keeping it simple is hard for me and this is one practice I ignore and neglect. Anyone with me?
After all the uncertainties and constant pivoting of the pandemic, the turmoil of war and political divisiveness, and life in general I crave more simplicity. Letting go. An uncluttering of the emotions crammed in my soul and simple trust in God. I have kept my eyes far too long on what is wrong and have been weighted down with fears, shifting, ever-changing plans, and doubts on where I need to go into the future.
 "To be simple is to fix one's eye solely on the simple truth of God at a time when all concepts are being confused, distorted, and turned upside down."
— Dietrich Bonhoeffer
How am I trying now to practice simplicity?  Please note the word: trying.  I have much to learn yet about this discipline.
I am decluttering my schedule. Reviewing all my commitments and activities. Saying no and creating more margin in life.
I will deliberately slow down and pay attention to God's presence, creation, and nudges.
Put first things first!
I will KISS. The KISS method can be defined in various ways but the explanation that works best for me is Keep It Simple and Sacred. Asking God for DAILY guidance, focused on the present, not two years ahead.
What am I clinging to? What has tangled my heart and impeded my walk with God? Often I carry burdens of my own making or take on the emotions of those around me. I listen to others but also absorb too much. I hear God inviting me to travel light and trust Him. Be open, willing, and vulnerable. He is with me.
Simplicity is NOT about all the things; simplicity is one thing. God.
Simplicity isn't something to do; simplicity is being who God called us to be.
Trust. Stillness. Openness. Attentiveness.
One other reason this practice rose to my heart and mind July 12 was National Simplicity Day. July 12 was designated for a focus on living simply because it is the birthday of author, naturalist, and philosopher Henry David Thoreau, who was born on July 12, 1817. In his well-known book, Walden, he writes and reflects on simple living in natural surroundings.
"In proportion as he simplifies his life, the laws of the universe will appear less complex, and solitude will not be solitude, nor poverty poverty, nor weakness weakness."

Henry David Thoreau
July 12 is a day to embrace a simple lifestyle and outlook in life. It also gives us a time to practice the art of doing one thing. Focusing on God, not the world.
What have you learned about simplicity lately and what helps you practice this spiritual discipline?