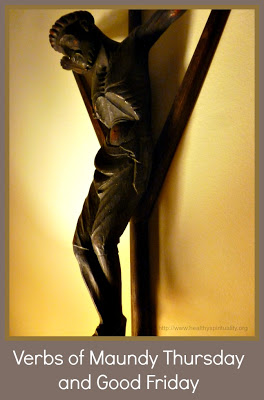 Ever notice the verbs from Maundy Thursday and Good Friday? I read the other day that too often we speak and write about faith in Jesus and ignore the faith of Jesus.
Jesus' words, prayers, tears, humility, and suffering during this point of the
Holy Week
story illustrate His faith. WE can research and listen for these action words occurring during Maundy Thursday, Good Friday and all the way through Easter morning celebrations.
The verbs – the part of speech that shows action and perhaps the most important word in a sentence – show us Jesus' faith. Breath in their meanings and ponder their lessons as you worship this holy week.
Jesus spoke
Replied
Answered
Took bread
Gave thanks
Broke it
Gave it to the disciples
Took the cup
Gave thanks
Offered it to the disciples
Sang hymns
Predicted
Knelt in the garden
Fell on his face
Prayed more
Found the disciples sleeping
Prayed a second time
Found them sleeping again
He healed.
He was seized
Stood before Pilate
Answered questions
Gave no answers
Heard the cries, "Crucify him!"
He was flogged
Humiliated
Betrayed
Deserted
Stripped
Blindfolded
Beaten,
Mocked
Spit upon
Rebuked
Denied
Condemned
Nailed to a cross
CRUCIFIED
Verbs – all showing the faith of Jesus.
As Christians, we know the story doesn't stop here. We learn from the verbs from Maundy Thursday and Good Friday. We can take them into our hearts and allow them to transform our wills into holy actions too.
All these verbs are past tense, but the best verb of all is present tense:
He lives!
He lives!
And that is the living, present tense faith of Jesus.  Amen!
As you look over this list of verbs from Maundy Thursday and Good Friday, which ones resonate the most with your spirit?