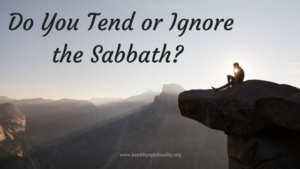 Do you practice honoring the Sabbath?  If so, in what ways do you remember this sacred time of rest and refuge?
In November, Sabbath is the theme for Healthy Spirituality's Tending the Holy Thursday series where I highlight a spiritual practice or a person(s) of faith for several weeks, so we can explore the topic with more depth. It is my hope and prayer we all can learn something new, gain ideas, and be motivated to dig deeper into this practice.
How is God inviting us into Sabbath?
As usual with each month's theme, I have an additional FREE download for you. I knew I wanted to learn more what the Bible said about Sabbath and was surprised at the number of verses referring to Sabbath. Then I began to dive into quotes from the writings of others who pondered the Sabbath and  I was amazed at the nuggets of wisdom I discovered. So I compiled them for you into a PDF called "Quotes and Verses to Ponder About the Sabbath"  and you can obtained this resource by simply clicking the button at the end of this post.  I hope its words deepen this exploration.
Sabbath – Finding Rest, Renewal and Delight
The thoughts and tips about this practice come from the classic book called Sabbath – Finding Rest, Renewal and Delight in our Busy Lives by Wayne Muller.  Next week I will feature Shelly Millers new book, Rhythms of Rest.
Muller's book, originally released in 1999, contains gems of wisdom and inspirational guidance into this practice.  Here are some of his thoughts:
"Sabbath time can be a revolutionary challenge to the violence of overwork, mindless accumulation and the endless multiplication of desire, responsibilities, and accomplishments. Sabbath is a way of being in time where we remember who we are, remember what we know, and taste the gifts of spirit and eternity… Sabbath honors the necessary wisdom of dormancy…a time to remember to celebrate what is beautiful and sacred."
Muller's approach to Sabbath is not just something we do, but something we are, we become.
"Let us remain empty as possible so that God can fill us up."
Mother Teresa
[Tweet ""Let us remain empty as possible so that God can fill us up." Mother Teresa"]
"At our best, we become Sabbath for one another. We are the emptiness, the day of rest. We become space, that our loved ones, the lost and sorrowful, may find rest in us… not fixing, not harming , no acting. Quietly empty, we become Sabbath, where the sorrows of the world are safely poured and gently dissolve into the unfathomable immensity of rest and silence."
I am in awe of this beautiful writing in the quote above and fascinated by the idea of being Sabbath, holding that space for the self and for others to find God. Reminds me of the Henri Nouwen quote I shared a few months back when we explore hospitality – "Hospitality, therefore, means primarily the creation of a free space where the stranger can enter and become a friend instead of an enemy."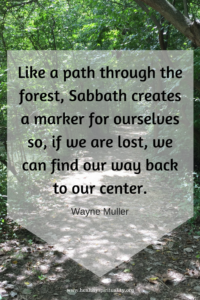 Muller brings our focus on the space within ourselves and in our crazy busy time.  He writes,
"Sabbath time can be like this, a sanctuary in time where we consecrate our loved ones, our yearnings for peace, our prayers for strength and well-being for our children…If we are too busy to see them, hold them or play with them, they escape our blessing and we are bereft of theirs…Sabbath time is set apart for remembering the holiness of life."
Sabbath time isn't just for me and isn't just a law or an obligation or something else I need to "do" to get into heaven. Sabbath is an invitation to rest, to connect, embrace life. In reality, sabbath is a gift – one I have been leaving unopened. 
Muller shares so much wisdom about Sabbath – I am only highlighting a few thoughts. I do encourage you to read or reread this book. Towards the back of the book he writes about how to honor this day at different times, including a new insight for me – leaving Sabbath time.
He shares that our Jewish friends hold a Sabbath-ending ceremony called the Havdalah.  We could learn much from those among us of the Jewish faith when it comes to remembering this command.
"For Havdalah, Jacob and his family sit quietly on the floor around the Havdalah candle. They are silent for a moment, and then each shares the best part of Sabbath and what they look forward to in the week. 'It is time of grounding us together before we go back into our buy lives.'  A cup of spices is passed, the sweet aroma reminding us of the delicious Sabbath time, so that as we leave and reenter the work of our life, we carry with us the lingering fragrance of rest. ..We feel more spacious, and the spices in our nostrils are a sensual reminder of where we have been."
Again the concept of being spacious. And don't you love the idea of the "lingering fragrance of rest?" And I appreciate the framework and the beauty of this ritual.
Muller's book provides much to think about and pray over.

5 Tips for Sabbath
Here are a few tips taken from Muller's book:
Choose at least one heavily used appliance or device

– TV, phone, computer, washer and dryer for example, and let them rest for a Sabbath period. A sacred time away from technology.

Prepare a Sabbath meal

– not just for survival as for sheer, savory delight. Take your time eating the meal. Add some music. Decorate the table. Say grace, being thankful. Enjoy the meal with intention.

Be mindful.

Find a trigger – touching a doorknob, the phone ringing, a chime of a clock. Choose one common act during the day to serve as a reminder for a Sabbath pause. Simply stop, take three deep silent breaths, then proceed. Celebrate Sabbath moments.

Sabbath "was born with the creation of the earth so Sabbath time bests in intimate synchronicity with the rhythms of nature."

  Get outside. Take a walk.  Feel the breeze on your face.  Even nap. (Gotta love an afternoon nap on a Sunday!)

Choose a short Bible verse

such as the phrase "The Lord is my Shepherd." Sit with those words or take a slow walk and allow the verse to accompany you. Repeat it with your breath. What do you notice? How do you change?
Next week I will add more tips, essential elements and questions to think about concerning this practice. I look forward to exploring Sabbath with you, the Healthy Spirituality community.
Don't forget to download your free copy of the "Quotes and Verses to Ponder about Sabbath" by clicking on the button below. I compiled 100 interesting words of wisdom about this discipline.    
Click Here to Get "Quotes and Verses to Ponder about Sabbath"
What do you think? What does Sabbath mean to you?  How do you, if you do, honor the Sabbath? Any tips for me? 
P. S. Every once in a while, I ask you to fill out a survey offering me feedback on this blog and what to present. I value you input. Here is the link for this year's survey.  Please complete it before the end of November.  Thanks so much.
Next week Nov 14, 15, and 17 at 2: 30 p.m. eastern I will be on Facebook live talking about Advent.  You will find the broadcast on my Facebook page here and it will be available as a replay at that same spot if you can't join me live.  I hope some of you can catch me there too.