Transformation is the topic featured this month on Healthy Spirituality. I am so excited to have today a guest post by Ceil Ryan, a Christian sister, blogger buddy, fellow nurse, and frequent commenter here in our community. I invited her to reflect about transformation and I am sure you will learn much with her thought-provoking words.
Transformation Takes Time
It's been about a month since we celebrated Easter. We all traveled through Lent together, a special time of prayer and sacrifice, ending in the joy of Christ's triumph over death.
Easter was a beautiful day – temperatures in the low 70's, flowers blooming and trees budding. Signs of new life and rebirth were everywhere, reminding all of the transformative life we are promised too.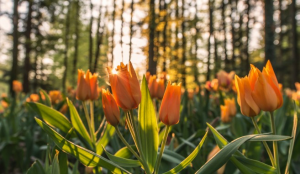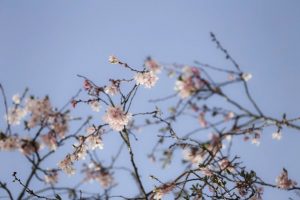 Honestly, I don't know about you, but I'm still looking for my 'transformative moment'. I know all the grace that was gifted to me in Lent and in the celebration of Easter remains in me. But I seem to be, disturbingly, the same.
I still get upset at things that shouldn't bother me. Sometimes I hold on to disappointment for WAY too long.
Grace has transforming power for me, I believe that, and I know it can change me. Why else would I pray for it when I face hard times or challenges? When I need to accept God's will in my life, prayers for grace to help in accepting that flow. I pray for that heavenly power to overcome my human weaknesses and lead me to become a holier person.
I believe these prayers are always heard, and always answered.
But I've also come to believe that there's no timeline promised for those grace-fueled changes to happen.
After all, God knows who he's dealing with. I am a very human person, used to coping with parts of my life in less than perfect ways. Although they may not be the best paths, over the years I've created some comfortable, deeply grooved roads away from peace. Away from love.
It took a long time to create those roads, so it's going to take a while to jump those ruts. The kind of transformation that I need doesn't come with making a few simple changes. Like the lesson I learned with my kitchen, I need a new beginning.
Over the years, I tried to make my kitchen a more workable space. New paint. New pantry door. New tile for the floor. They all sounded like great ideas, but they never really got to the heart of the problem. Finally, we hired an architect, and had a complete demo and renovation done. Only then did the kitchen become a completely new and fully functional space. The room was completely transformed, but it took months to plan, and months to construct.

My soul needs that kind of conversion too. When I see myself giving into temptation, or getting frustrated, it doesn't mean there's no grace or no hope. It just means I'm under construction.

Grace is still flowing, bringing about deep spirit-led transformation as slowly and surely as a river current smoothes the stone. God has promised to make us his holy ones, and he will be true to his word.
I've decided to willingly submit to my own personal demo and new construction. I can't wait to see how God shapes the new space, the new roads…and the new me.

Ceil Ryan is a wife, nurse, Mom and Nana living in the Midwest. After working more than twenty years, she hung up her nurse's cap to start writing and blogging full-time. Her passion is sharing personal stories with an emphasis on faith and encouragement.
You can read more from Ceil on her blog: Surrounded by the Spirit at www.ceilryan.com.  Follow her on Facebook: (www.facebook.com/surroundedbythespirit) and Twitter: @ceilryan
WOW! Thank you, Ceil for nailing how so many of us feel. Yes we are a work in progress and I wait right along side of you to see how God's grace reshapes all of us.
How do you see transformation in your life?  Like a kitchen renovation?