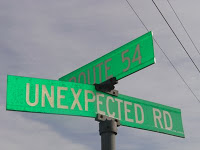 Spiritual Directors International Conference
The Spiritual Directors International Conference last week exceeded my expectations. Throughout my career I have attended numerous national and international conferences. Unfortunately most of the time I leave the workshops disappointed with generalities, gaining little tools to use helping others, and an inner sense that I wasted my time.
So loaded down with low expectations, last week I traveled to Houston to attend the Spiritual Directors International (SDI) conference for the first time. The quality and depth of this conference surprised me and in the following list of expectations for anyone going to this particular conference I share some of the treasures I discovered there:
1.
Expect to be surprised
. This conference exceeded all my expectations in multiple ways.
2.
Expect to be surrounded by God's spirit
. The prayers, décor, music, silence, discussions and networking all opened my heart and eyes to see God's presence.
3.
Expect to connect
. I ran into a good friend, Sue Wilhelm, and then made many new friends. We experienced a luncheon called the Amazing Faiths Project where we were assigned tables with people we didn't know and of diverse backgrounds. We answered thought provoking questions and shared deeply with one another. The project is named appropriately – it was amazing.
4.
Expect to discover new books
. Of course the book lover in me quickly found the exhibits and bookstore and wandered through all the titles and resources multiple times. I didn't over buy for a change but studied the various titles, authors and subjects.
5.
Expect to participate, not just sit and absorb
. Many conferences we attend we soak in all the material like sponges. No action on our part. SDI is different. With every workshop I attended some degree of participation stimulated active, not inactive learning.
6.
Expect to stretch your mind and open your heart to new ideas.
I met a Buddhist from Ireland and learned so much about her deep faith. New ideas blossomed as speakers presented, planting new seeds in my heart. Much to ponder.
7.
Expect to use both sides of your brain.
The left side in learning and listening and the right half in experiencing. I attended a wonderful presentation on spiritual intelligence. I fed my spirit in two quiet rooms set aside for prayer that were open 24 hours a day. The desert room actually felt dry, bare, yet still, and the garden room tingled all of my senses.
8.
Expect to reflect on deep questions
: What is missing in my life? How do I live a spiritual life? What does it mean to be compassionate?
9.
Expect to be renewed, revitalized and reenergized.
Healthcare was the focus for the first day with a focus on its being a sacred vocation. That was refreshing to hear.
10.
Expect to hear top notch presenters
.
Ron Rolheiser
gave two keynotes full of faith building information.
Would I recommend the Spiritual Directors International Conference to other spiritual directors? A huge YES!!