This is a series of reflections following my trip to the Holy Lands this fall. What a profound and life-changing experience to walk where Jesus lived. Visiting Israel opened my eyes and refreshed my heart on so many levels – historically, politically, biblically and spiritually. 
Unexpected surprises filled the trip to the Holy Lands. I am discovering more of them now that I am at home – eagerly looking at photos, summarizing notes in my journal, talking with God about that sacred land.
Ever noticed how we humans love to mark special places? We want to honor, remember locations of significance. We may erect simple cairns – a pile of rocks – to note this is a space where someone encountered God or we build huge cathedrals – often on top of older churches on top of other historical sites on top of a once simple location full of God's presence.
Since home I am realizing the places in the Holy Lands that have lingered most in my heart haven't been the grand manmade churches, sometimes "guarded" by holy men in black long robes or the ones crammed with hundreds of icons, crosses, candles and candelabras.
The sacred places I return to in my memory and my prayers are the barren, plain, rough, more natural ones.
Capernaum – The town where Jesus centered much of his ministry. I expected another touristy area with a massive church. Yet this site was an archeological dig showing us how they lived in the first century. I stood in the remains of the magnificent synagogue from the third century built on top of an earlier temple, probably where Jesus taught. There I remained for a quiet moment in the present time in the location where more than 21 of Jesus' miracles occurred and where he gave his lessons – a sacred moment of connection for me, encountering Jesus as Rabbi and Healer.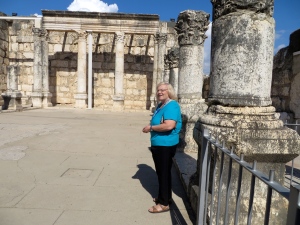 The Dead Sea – What surprised me most about this legendary body of water was its beauty. The blueness captured my entire view and I was amazed about its size, though it is smaller today and is shrinking more each year. Yes touristy in places but when seen in its natural state – an exquisite splendor.
The Judean Wilderness – I thought I knew what barren desert looked like until we traveled through this arid, sandy, harsh and bleak territory – a vacant desolate land where John the Baptist ministered and Jesus was tempted.
The geography of steep hills and narrow valleys – I heard the mountains names before – studied them in the Bible – Mount Zion, Mount Carmel, Mount of Olives, Mount Nebo, but their height, sharp verticals drop-offs into narrow fertile valleys with produce and villages surprised me. We traveled from beaches, to lush valleys, through rugged mountains, rabbling foothills and hot wilderness. A beautiful diverse scenery that forever changed the way I visualize Biblical story settings.

Overlapping Old Testament and New Testament sights – I guess I never realized how the stories from long ago before Christ occurred near many of the events found in the New Testament. Sort of a no-brainer though when we learned that Israel is the size of New Jersey – of course these important episodes could occur in the same location. For example, we visited one of the locations where Jesus may have been baptized which is also near the site where the ark of the covenant entered the promised land and where Elijah ascended into heaven. On our way to Mount Carmel we traveled through the Sharon Plains, the location of the Song of Songs. At Mount Tabor we stood in the place of Jesus' transfiguration and also near where Deborah defeated the armies of Sisera.
Pilgrim led prayers and reflections – A highlight on this journey was different fellow pilgrims leading services and devotions at the various stops. We heard and prayed for grandmothers at St Anne's church, healing at Capernaum and the Pool of Bethesda, and considered the lessons in the rocks that surrounded us at Petra.

I am still seeing the Holy Land with new eyes, learning its lessons, and beholding unexpected surprises:
The extraordinary in the ordinary places of life

The sacredness in the simple surroundings

And the mystical in the nature settings
What unexpected surprises are you learning in the common, ordinary locales in your life?