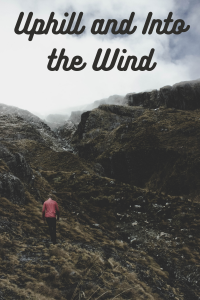 Can you imagine walking uphill and into the wind? Think about the determination, the pain and fatigue, unable to see the final destination. The persistence of plodding one step at a time, one after another, bogged down with thick mud or snowdrifts. Straining with each labored breath. Icy cold driving rain pummeling your face.
I dreamed that scene last week. I rarely remember my dreams so when an image not only lingers in such detail but echoes in my soul with such a thundering boom, I notice. Doesn't take a genius to pay attention when God is trying to show me something.
I tried to find just the right photo to capture this uphill and into the wind image. I wanted to paste it into my journal. Show it here to you. The illusive perfect illustration hasn't surface yet but still lives vividly in my mind.
I am being vulnerable today, sharing this experience, baring my soul.
In my morning prayer time lately, Jesus has been sitting across from me, listening, watching, waiting for me. I tell him about this strange dream. How I still feel its impact in my muscles and bones. How its force clings to my heart.
He gently asks me to describe my feelings.
Fatigue.
Life is hard.
Never-ending.
I smile realizing how true this describes my soul at this time. Perhaps from 2020. Maybe from the fact I am juggling many balls right now. (to be honest, too many!) Knowing as an Enneagram three, failure is devastating, and I don't want to fail.
No words. No burning bush. No grand moment of transfiguration. I just knew Jesus' response.
I am with you.
In times of peace and comfort I am by your side.
In dark threatening storms and confusing doubt, I won't leave you.
My job is to be faithful. To keep my eyes on Jesus and show up. Day after day. Step after step. Making the next best to my ability move. Trust even as I struggle uphill and into the wind.
I am memorizing Thomas Merton's prayer of discernment this year. Its words reassure me as I ponder this dream.
My Lord God,
I have no idea where I am going.
I do not see the road ahead of me.
I cannot know for certain where it will end.
nor do I really know myself,
and the fact that I think I am following your will
does not mean that I am actually doing so.
But I believe that the desire to please you
does in fact please you.
And I hope I have that desire in all that I am doing.
I hope that I will never do anything apart from that desire.
And I know that if I do this you will lead me by the right road,
though I may know nothing about it.
Therefore will I trust you always though
I may seem to be lost and in the shadow of death.
I will not fear, for you are ever with me,
and you will never leave me to face my perils alone.
So I share my heart with you all today as I ramble and unpack this lesson.  I am hearing God's invitation to sit with the difficult and unclear where before I ignored or rushed to fix. God is good to send us on this human journey and accompany us as his children.
God walks with us, even uphill and in the wind.
How is it with your soul lately?