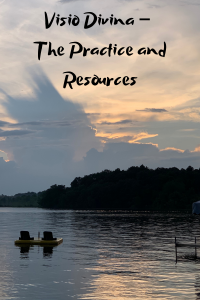 Visio Divina deepened my time with the Lord at my recent silent retreat.
This a slow contemplative prayer practice similar to Lectio Divina or sacred reading. Visio Divina is Latin for divine seeing and involves praying with art and allowing God to speak to us through the use of an image.
Prayerful consideration of and interaction with a photograph in the magazine, icon, piece of art, or other visual representation invites us to experience the divine in a unique and powerful way.
This is the statue from my recent retreat that brought me closer and loved deeply by God.  This practice enhanced my time with the Lord as I listened with the eyes of my heart, soaking in his love and gazing at this art piece.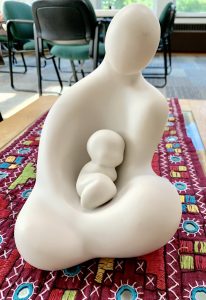 Meeting God Through Art: Visio Divina
Meeting God Through Art: Visio Divina. – A Guided Prayer Journal with Images from the Metropolitan Museum of Art is a new book by my friend. Therese Kay. This book accompanied me on my retreat and inspired me to explore various art and images God invited me into with him that week.


This book is a great resource for the beginner of this practice as she clearly explains the process in easy steps, addresses challenges, and provide quite a few amazing paintings for inspiration. After each painting, there is journal space with prayers and prompts to add depth to your conversation with God. Questions such as What did you notice in this image? What emotions, memories, thoughts or question come up? What scriptures come to mind? Where do you see God in this image?
Praying with art is a reflective practice that slowed me down, helped me listen, and experience peace and new perspective in my relationship with the Lord.
"When words become unclear, I shall focus with photographs. When images become inadequate, I shall be content with silence." 
― Ansel Adams
Resources
Here are some resources to learn more about this practice
Praying with Art– article
Visio Divina – article
The Spiritual Practice of Visio Divina – blog post
The Master's Hands – Visio Divina – blog post
God speaks to us in many ways and how refreshing this was to rediscover this approach to prayer and explore a new book at the same time.
What has been your experience with Visio Divina?