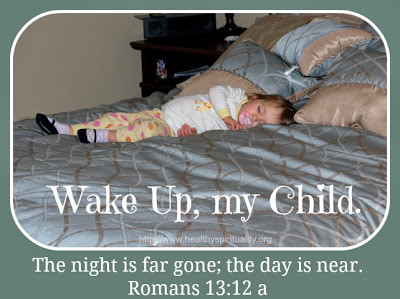 "Besides this, you know what time it is, how it is now the moment for you to wake from sleep. For salvation is nearer to us now than when we became believes; the night is far gone, the day is near."
Romans 13: 11-12 a
"Therefore you must be ready, for the Son of Man is coming at an unexpected hour."
Matthew 24: 44
Lord, I love the twilight when you first arouse me from slumber.
I sense your presence sitting by my bed, gently awakening me for the day ahead.
"Wake up, my child."
I smile. You smile. Time to get ready.
The night is gone and the day is near.
I don't know what this day will hold, Lord.
Maybe I will get done all I have planned.
Perhaps you will bring interruptions of more importance into my path.
God surprises may take me into unplanned twists and turns.
I don't know, but you do, Lord.
Lord. You contain all time. 
You hold the future with one hand and embrace us with the other.
When will you come back for us, Lord?
"Wake up my child."
You tell me it's time to wake up. 
Be watchful for your arrival.
I prepare. I wait. I hope.

 
Only you know the time and what lies ahead.
So I listen to your words, 
"Wake up, my child."and my spirit stirs.
What a beautiful way to start the day and to live.