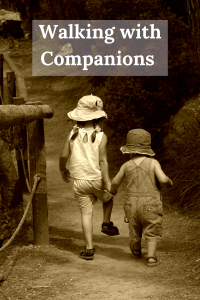 Who are your walking companions?
Therefore, since we are surrounded by so great a cloud of witnesses, let us also lay aside every weight, and sin which clings so closely, and let us run with endurance the race that is set before us. Hebrews 12 :1
God has gifted us a rich history of past and present "witnesses" to our faith that accompanies us if we only seek their wisdom and listen to their stories.
I love the image of one or two fellow pilgrims emerging from the cheering crowd along my path and coming along side of me for a spell. A road to Emmaus moment. Sharing our story with and in the presence of Christ – learning and growing deeper.
When I was in formation to be a spiritual director, we were asked to walk with a spiritual person for two years –soaking in the story of their lives, immersing in their writings and gleaning lessons for our own journey. Dorothy Day still walks with me today as a friend, a companion and a witness.
Henri Nouwen has come along side of us since then and added to the depth of our conversations and conversions.
In 2020 two new friends stepped out. I participated in an online course about the Interior Castle and Teresa of Avila and have been blessed with new insights, a refreshed spirit, and challenged by her words and love of God. My prayer is that she continues to teach me into the future.
My surprise new walking partner who just emerged is Howard Thurman. I recently joined the Renovare Book club and we are reading his book Jesus and the Disinherited. Other than knowing a few great quotes by Thurman, I really didn't know his story. We watched a PBS video about his life and knew this new companion would be with me for a while. My affirmation appeared in this video when I saw parallels between his life and my great Aunt Anna – both living ahead of their times, both pacifists and both taking a stand even when their position was not accepted, safe or popular. My prayer is I stay open and listen to his challenging words and wisdom.
I believe God sends us many lights to lead our way if we only ask, pay attention and be open to surprises along the way. Companions can appear from history or even present day, still living ones. I am thankful God continues to shape my heart and spirit in many ways.
Who are you walking with? Who are your companions?