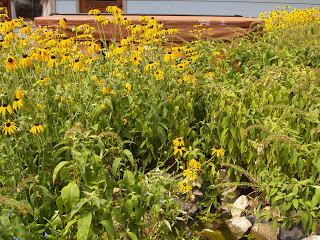 Our hot tub disappeared. My perennials conquered that corner of the garden and swallowed up the path leading to our spa. I think some thinning out of my garden is long past due. I have some friends who want starts from my backyard, so it's time to share some flowers.
I love books and books pack my shelves. We are remodeling all of our bedrooms and I am moving my office into a smaller room. One less bookshelf mandates fewer books. Time for thinning out those that I haven't or don't think will use. My local library that sells used books to support the Friends of the Library projects will soon have a large donation from me.
My flowers are beautiful and my books are rich resources, but both have strayed from their boundaries. Time to thin them out and pass them on.
Over the past month I have caught myself overflowing with negative self-talk. Useless, self-defeating habits moved in to push out my exercise routine and eating healthier. The noise of a busy day dominates my quiet time with God.
I guess my life needs some weeding too.
But I just don't want to throw out and be destructive; I want to cultivate and grow in the right direction.
Cultivate the quality of the flowers in my backyard, not let them multiply unheeded.
Cultivate my reading – not just to have in my possession books, but to read them deeply.
Cultivate my life – plucking out the bad habits, uprooting the time wasters, and planting healthy habits that nurture my body and my spirit.
A person's character and their garden both reflect the amount of weeding that was done during the growing season
-  Author Unknown
What needs thinning out and weeded from your life?