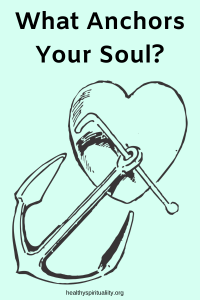 "This hope is a strong and trustworthy anchor for our souls. It leads us through the curtain into God's inner sanctuary. Jesus has already gone in there for us."
Hebrews 6:19-20 (NLT)
******
"Home is where the anchor drops." 
Unknown
My favorite short-sleeve shirt displays an anchor on its pocket.  Throughout summer anchors materialize on clothing, menus, billboards, advertisements and most importantly in my heart.
Anchors stir my thinking.
What is my anchor in life? What is yours?
An anchor can be defined as a strong object that holds something in place; a reliable and main support.
Anchors bring safety to travelers on ships being rocked by storms. Anchors prevent us from drifting too far off our path, heading possibly into dangerous dark places.
Anchors help us feel grounded, settled, and connected to Something larger than ourselves.
Anchors root us deeply in a solid foundation.
Spiritual Moorings
What are the spiritual anchors in our lives?
Some possibilities are God, family, friends, places, and experiences. Companions stabilize us and come alongside us during unstable times. Talking regularly with my spiritual director stills my souls and calms my fears.  Even this introvert knows how priceless and healthy living in community can be.
I love sitting on a beach or gazing across the mountains. The sounds of the waterfall in my very small backyard pond soothes my soul and connects me with God. Walking in nature, listening /watching the birds, sitting on my backyard swing, and cuddling with a grandchild all revive my spirit. Even the simple act of drinking a cold glass of water or breathing in the scent of my morning coffee centers me.
As a writer, I am learning I cannot NOT write – writing anchors me and draws me closer to God and who I am as his child.
My hubby and I just spent a delightful time with friends we have known for 50 years. My heart bubbled with joy; my spirit refreshed like a swim in cool waters. Friends anchor my soul.
I leave in a few weeks for my annual weeklong silent retreat. The stillness, silence, and solitude sharpen my connection with God as he cleanses me, holds me, loves me.  I shared about my retreat experience on this post.
My life verse serves as an anchor for me too. Whenever I am uncertain, feel lost or fearful, I repeat the words from Hebrews 12:2 – "Keep your eyes on Jesus, the author, and perfecter of your soul."
As I contemplate anchors, I wonder if anchors change with the seasons and circumstances of our lives. What do you think?
The Lord knows we drift without him. The Lord understands the turbulence in the world and within our hearts. Dangerous currents, riptides, and tempests upset our best intentions.
We all need God as the anchor for our souls.  The Anchor holds us firmly and forever.
The Anchor Holds
As I mused about anchors this past week, I remembered the song " The Anchor Holds" by Ray Bolz.  Enjoy it here.  If you are reading this by email, you may have to go to the actual blog post to see the video or click on this link to listen to the song;
Then I discovered the story behind the song. Amazing.
What anchors your soul?