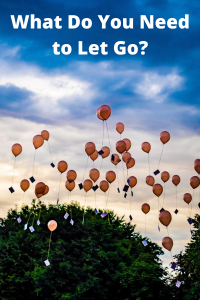 To let go is hard.
I tend to cling to what I know, stay in the rut of self-pity too long and dwell in the past rather than moving forward, even when the healing has begun.
I admit this. I am beginning to recognize this tendency quicker than I used to, and I am learning to let go.
I love Emily P. Freeman's podcast, The Next Right Thing.  A few weeks ago, she challenged us to "Leave It Behind."  Well worth your time to listen to her wise words.
Emily first discussed names we were and are called and continue to call ourselves. Do you have a nickname? What did your parents call you? Your friends? Your adversaries?
I still hear a collection of monikers echoing in my heart: Jean Anne, Ammie, Jeanie, Indian Fatso (from 6th grade – ugh!) J, and Beanie. My weight watcher friends now call me Lean Jean – I like that one. ( :
Emily shares: "Your life is a story already happening, and you bring every name with you wherever you go. Like Madeline L'Engle wisely said, "I am still every age that I've been." In the same way, we bring our six-year-old self and our 16-year-old self to the age we currently are, we also carry every name we've ever had whether that name was gently bestowed as a gift of love or critically slung as a cruel insult. Here we are named and present, making every life decision through the lenses we've been wearing for decades."
What name do we need to let go of?  Have we outgrown?  Never fit us well anyway.  I know it is time to deeply listen to the names still carved in my heart and ask God to fill in those scars and help me let go. This practice fills me with hope even in this difficult year we are experiencing.
Here are some quotes about letting go I shared a couple of years ago.
Emily's podcast invited me to listen to what God calls me when we sit together. I heard God gently say "Child."
I smiled.
God smiled.
Emily closed her broadcast with lines from a poem called The Sacrament of Letting Go by Macrina Wiederkehr. "The poem itself describes a tree letting go of her beautiful leaves, one by one. And then she asks the question and here's the quote, 'How do you give shade with so much gone? And then the sacrament of waiting began the sunrise and sunset watched with tenderness, clothing, her with silhouettes. They kept her hope alive. They helped her understand that her vulnerability, her dependence and need her emptiness, her readiness to receive. We're giving her a new kind of beauty every morning. And every evening she stood in silence and celebrated the sacrament of waiting.'"
So I am pondering what I need to let go off and what God is inviting me to surrender to him and leave behind as I journey forward.
What about you? Emily presented some great questions in her podcast that I offer for your discussion and deepening.
When you saw the phrase Leave It Behind, what is the first thing that came to mind? What's something you wish you could leave behind, but the letting go feels impossible, irresponsible, or scary? When you think of yourself, what is the first name that comes to mind? When you say that name, what does it bring up in you? Joy or sorrow, anger or peace? Is it time for you to embrace that name fully? Or is it time to leave it gently behind? Could you leave behind regret?