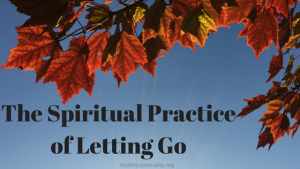 Quotes bring tidbits of wisdom and insight and an incentive to dive deeper into a thought, belief, and behavior. Often a quote will arrive at our heart's doorstep at just the right moment we need to absorb its words.
Letting Go is October's Tending the Holy Thursday theme. Each month on my Thursday posts, I pick one theme (or person of faith) to explore in depth over several weeks.
I invite you if you haven't already to explore the October posts about letting go so far shared here.
The Spiritual Practice of Letting Go
The Spiritual Practice of Letting Go – Assumptions
Each month I also include a free download to accompany the month's topic. This month I wrote out for myself and want to share with you a list of "50 Things to Let Go."  These examples are ideas of people, stuff, ideas, and beliefs that we may cling to that no longer fit, serve, or help us in our journey. I don't plan to release all 50 of these, but to have the list copied in my journal to use in my prayers, asking God to show me what fills my heart and mind that block me from him. What do I need to release to draw closer to God? This printable is available at no cost by clicking the button here or at the end of this post. I have been amazed on how many of you have printed out this sheet.
Those of you who come here often know I love quotes and gathered 18 quotes about letting go to share with you. But instead of just listing them here, I invite you to go deeper. I am going to choose one quote and answer two questions – Why did that quote resonate with me? And what is God inviting me to do in response to its words?
My challenge to you: chose one of the quotes in this post. Write it out in a journal or notepad. Sit with its words. Talk and listen to God as you ponder the quote. Next answer the same two questions. Then if you are comfortable, share any insight you gained from this practice with us in the comments.  If you want to keep your reaction private, but still want to share it with me, feel free to email me at jeanwise22@gmail.com.  I will honor your privacy and welcome your friendship.
My Quote about Letting Go to Ponder
"We can't be afraid of change. You may feel very secure in the pond that you are in, but if you never venture out of it, you will never know that there is such a thing as an ocean, a sea. Holding onto something that is good for you now, may be the very reason why you don't have something better."
L.JoyBell C.
Why did this quote resonate with me?
As I reread this quote and talked with God about its words, I realized that fear drove my need for comfort, stability, staying put and holding on. If I let go, I lose control. If I let go, I leap into the unknown fog of a future where I don't have plans, lists of busyness, mind-numbing distractions.
Lord, I like the "pond" I live in. What will happen if I dare to go elsewhere? Am I really trusting you enough to guide me to an ocean or sea or the More that you represent?
What is God inviting me to do in response to these words?
Lord, I realize how much I cling to control and little I trust you with my plans, future, and life. Help me let go of what blocks me to expand my vision and if necessary lead me from my comfortable "pond" and into the More, the ocean, the rich seas you have created for me.
My image going forward from this time on is the ocean. I printed and copied this photo into my journal and by my desk. Leaping into the wide new possibilities of More with God.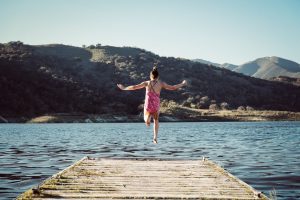 17 More Quotes about Letting Go
"The harder you fight to hold on to specific assumptions, the more likely there's gold in letting go of them."
John Seely Brown
******
"There are things that we never want to let go of, people we never want to leave behind. But keep in mind that letting go isn't the end of the world, it's the beginning of a new life."
Unknown
******
"I surrender my anxiety and my sense of urgency. I allow God to guide me
in the pacing of my life. I open my heart to God's timing. I release my deadlines,
agendas, and stridency to the gentle yet often swift pacing of God. As I open
my heart to God's unfoldings, my heart attains peace. As I relax into God's timing,
my heart contains comfort. As I allow God to set the tone and schedule of my days,
I find myself in the right time and place, open and available to God's opportunities."
Julia Cameron
******
"To let go is to release the images and emotions, the grudges and fears, the clingings and disappointments of the past that bind our spirit."
Jack Kornfield
******
"When I let go of what I am, I become what I might be. When I let go of what I have, I receive what I need."
Lao Tzu
******
"We must be willing to let go of the life we've planned, so as to have the life that is waiting for us."
Joseph Campbell
******
"Let all bitterness and wrath and anger and clamor and slander be put away from you, along with all malice. Be kind to one another, tenderhearted, forgiving one another, as God in Christ forgave you."
Ephesians 4:31-32
******
"Holding on is believing that there's only a past; letting go is knowing that there's a future."
Daphne Rose Kingman
******
"Let go of your attachment to being right, and suddenly your mind is more open. You're able to benefit from the unique viewpoints of others, without being crippled by your own judgment."
Ralph Marston
******
"Brothers, I do not consider that I have made it my own. But one thing I do: forgetting what lies behind and straining forward to what lies ahead, I press on toward the goal for the prize of the upward call of God in Christ Jesus."
Philippians 3:13-14
******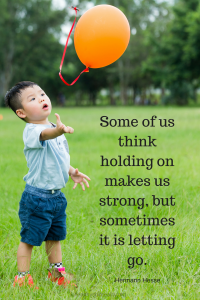 "Some of us think holding on makes us strong; but sometimes it is letting go."
Hermann Hesse
******
"What's the greater risk? Letting go of what people think – or letting go of how I feel, what I believe, and who I am?"
Brene Brown
******
"Let go of certainty. The opposite isn't uncertainty. It's openness, curiosity and a willingness to embrace paradox, rather than choose up sides. The ultimate challenge is to accept ourselves exactly as we are, but never stop trying to learn and grow."
Tony Schwartz
******
"Letting go may sound so simple, but rarely is it a one-time thing. Just keep letting go, until one day it's gone for good."
Eleanor Brown
******
"Therefore, since we are surrounded by so great a cloud of witnesses, let us also lay aside every weight, and sin which clings so closely, and let us run with endurance the race that is set before us, looking to Jesus, the founder and perfecter of our faith, who for the joy that was set before him endured the cross, despising the shame, and is seated at the right hand of the throne of God."
Hebrews 12:1-2
******
We find by losing. We hold fast by letting go. We become something new by ceasing to be something old. This seems to be close to the heart of that mystery. I know no more now than I ever did about the far side of death as the last letting-go of all, but now I know that I do not need to know, and that I do not need to be afraid of not knowing. God knows. That is all that matters.
Frederick Buechner
******
We must learn to let go, to give up, to make room for the things we have prayed for and desired.
Charles Fillmore
******
Your Turn to Respond to One of the Quotes about Letting Go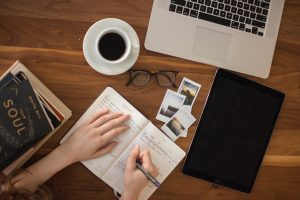 Which quote stirred your heart? Did one cause you to stop, reread it slowly? Perhaps wrestle with its words?
Try this practice:
Rewrite the quote out in a journal or on a notepad.
Take the quote to God. Ask him to show you why that particular quote jarred or soothed your spirit.
Sit with the words. Walk through each word and meaning. Listen to what God may be saying to you.
Write out: Why does that quote resonate with you?
Pray and listen once again.
Write out what you feel God inviting you to do in response to the quote?
Share your insight with someone, even if just privately in your journal and prayers with God. Or with a spiritual companion. A trusted loved one and friend. Or below in our comments.
Don't forget to download the list of "50 Things to Let Go" (Click the button below) to begin to think about what God may be inviting you to release, to let go of this autumn.
Let's go deeper with the spiritual practice of letting go. Share something you have learned this month while thinking about this disciple or what you learned pondering a quote about letting go.
******
P.S. This is the time of year I invite you to add your voice to this blog by completing my readers survey. This contains 7 open-ended questions and will only take about 5 minutes of your time. Thank you for those of you who already completed it – I really appreciate it. And for those of you who haven't yet done the survey, I do value your opinion. Thanks so much. Here is the link:
https://www.surveymonkey.com/r/T2FJ58K