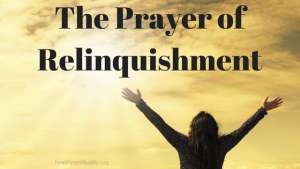 Letting go is hard.
We've been exploring the spiritual practice of letting go this month on Healthy Spirituality. I will have one more post on this topic this coming Thursday but ran across the Prayer of Relinquishment today and thought it fitting to share with you.
What is Relinquishment?
"No one is ever united with Jesus Christ until he is willing
to relinquish not sin only, but his whole way of looking at things…"
– Oswald Chamber
Relinquishment means to release or let go.
In the book titled Prayer – Finding the Heart's True Home by Richard Foster, he writes that "we begin to enter into a grace-filled releasing of our will and a flowing into the will of the Father. It is the prayer of relinquishment that moves us from the struggling to the releasing…this prayer is a bona fide letting go, but it is a release with hope… God is not destroying the will but transforming it so that…we can freely will what God wills."
As I ponder this radical prayer, I discern my need to pray its words daily – as each day I resume my haphazard attempt at controlling my own life and need the reminder God is the one in control. A lifetime, an ongoing process of continuing to let go and let God.
I am finding it helpful to pray with open, palms upward hand, symbolizing my giving it all to God, not clinging with clinched fists. I often fill my hands and my heart with what I think will I need when God has wonderful blessings awaiting me if I would only release and reach up for him.
Slowly I learn to trust God.
Relinquishment – My will-filled must combusts into willing trust. Jean Wise
[bctt tweet="Relinquishment – My will-filled must combusts into willing trust. Jean Wise" username="Jeanwise"]
The Prayer of Relinquishment
A Prayer of Relinquishment
Today, O Lord, I yield myself to you.
May your will be my delight today.
May your way have perfect sway in me.
May your love be the pattern of my living.
I surrender to you
my hopes,
my dreams,
my ambitions.
Do with them what you will, when you will, as you will.
I place into your loving care
my family,
my friends,
my future.
Care for them with a care that I can never give.
I release into your hands
my need to control,
my craving for status,
my fear of obscurity.
Eradicate the evil, purify the good, and establish your
kingdom on earth.
For Jesus' sake,
Amen.
Richard Foster – From his book, titled Prayers of the Heart
I am going to simply sit with this prayer. What about you?
P.S. This is the time of year I invite you to add your voice to this blog by completing my readers survey. This contains 7 open-ended questions and will only take about 5 minutes of your time. Thank you for those of you who already completed it – I really appreciate it. And for those of you who haven't yet done the survey, I do value your opinion. Thanks so much.  Here is the link:
https://www.surveymonkey.com/r/T2FJ58K