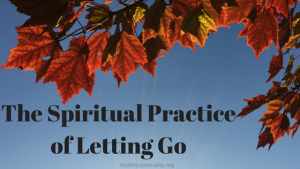 Do you have the courage to put into action the spiritual practice of letting go?
I had to face this question when I decided to delve into this discipline this month. Letting go challenges my comfort zone and requires vulnerability and willingness to step into the risky unknown with faith that God will lead me to where and what I need to grow spiritually.
Letting Go is October's Tending the Holy Thursday theme. Each month on my Thursday posts, I pick one theme (or person of faith) to explore in depth over several weeks.
Each month I also include a free download to accompany the month's topic. This month I wrote out for myself and want to share with you a list of "50 Things to Let Go."  These examples are ideas of people, stuff, ideas, and beliefs that we may cling to that no longer fit, serve, or help us in our journey. I don't plan to release all 50 of these, but to have the list copied in my journal to use in my prayers, asking God to show me what fills my heart and mind that block me from him. What do I need to release to draw closer to God? This printable is available at no cost by clicking the button here or at the end of this post. Enjoy!
Last week's post introduced this topic and I did find an older post about letting go from the 2014 archives of Healthy Spirituality blog. Letting go of our old images of God even seeped into Tuesday's post. I guess this practice is percolating into all my thoughts and behaviors right now. Paying attention to what I cling to, what blocks me from God, and old outdated no longing fitting beliefs fit the season of fall as the trees and bushes change and release their leaves.
Where to Start with Letting God
I asked God where to start with this practice. One word emerged from my Bible reading over and over again. The image that kept bubbling up in my time with God was pruning.
Six years you shall sow your field, and six years you shall prune your vineyard, and gather in their yield;
Leviticus 25: 3
He removes every branch in me that bears no fruit. Every branch that bears fruit he prunes to make it bear more fruit.
John 15: 2
Ok, ok I hear you, Lord, but where do I start? What needs pruing?
"Your assumptions" came the gentle response.
Letting Go of Assumptions
I saw a big fat fly buzzing in my kitchen. One of my pet peeves is bugs in my house so I immediately went on the offense intent of eradicating that annoying critter.
Where did he disappear to? Wait, is that him over there?
That's when I realized the reality. What I assumed to be a fly was only a floater in my eye. Man, did I feel foolish. Wasting all that energy on an imaginary annoyance. How silly!
Assumptions. We jump to conclusions, often false ones, when we assume.
I didn't know where to begin with this idea of letting go of assumptions, so began with a definition and awareness.
An assumption is a willingness to believe something without proof or even questioning. We may not even be aware of this background framework that influences our emotions and behavior on autopilot. That's scary, isn't it?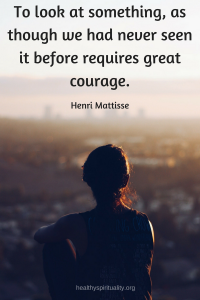 Assumptions can be right some of the time. We learned them based on experience or lessons from life. But assumptions can also lead us astray or may no longer fit where we are on our journey through life. They may not even exist as in the fly in my kitchen incident.
Assumptions often drive the "should's" in our vocabulary – a good hint in recognizing an assumption. (What's the expression: Don't "should" on yourself?") They can also limit our dreams with self-imposed boundaries.
Assumptions constrain us from seeing things as they really are and only from our narrow world view.
Reminds me of the cardinal that I watched this summer repeatedly "attacking" the cardinal he saw in the reflection of the window of our door leading into the garage. He assumed what he saw was another bird coming near his mate and went on a defensive battle plan.
"We simply assume that the way we see things is the way they really are or the way they should be. And our attitudes and behaviors grow out of these assumptions."
Steven Covey
How to Let Go of Assumptions
I have been reading and pondering how to let go of my assumptions. Here is what I have learned so far:
I am praying and journaling about my assumptions that I see in my life. Naming them has been eye opening as I sort them into piles of usefulness or rubbish.
I'm paying attention and questioning if I am assuming something without proof. Observing the patterns of my thoughts. Asking myself where does that belief or behavior come from?
Another idea is to listen to our self-talk, especially for statements that are all encompassing, using words such as never and always. "I will never lose weight."  "She always tries to one-up me."  Analyze those times for lessons.
When I feel challenged by someone's statement, comment, or even bickering with me – first listen to understand their point of view, then give myself permission to sit/research/pray about this contrasting idea and consider it. Then either accept it or reject it.
When I feel an emotion rising within me – resistance, anxiety, anger – is it stemming from an assumption? When the human mind doesn't understand something, it tries to complete the picture, to fill in the blanks with partial stories. I assume that person looked at me in an odd way because she was judging my appearance instead of knowing she was not even seeing me but thinking of the fight she had that morning with her spouse.
Begin challenging your assumptions. Your assumptions are the windows on the world. Scrub them off every once in awhile or the light won't come in.
Alan Alda
My Biggest Lesson So Far in Letting Go
Grace before guess. 
[bctt tweet="Grace before guess.  Jean Wise" username="Jeanwise"]
Give myself grace. Give others grace. Grace first before assuming and criticizing myself or judging others. This is perhaps my biggest lessons so far.
I get a choice every time I have to open my mouth: that it can be with civility and dignity and grace – or not.
Dana Perino
Start with grace and love. I "should" have known this – oops – there I go assuming…
Don't forget to download the list of "50 Things to Let Go" (Click the button below) to begin to think about what God may be inviting you to release, to let go of this autumn.
Letting go of assumptions if my focus as part of this spiritual practice. What is God inviting you to let go of this season? What assumptions no longer work for you and can you add any tips for letting go of assumptions?