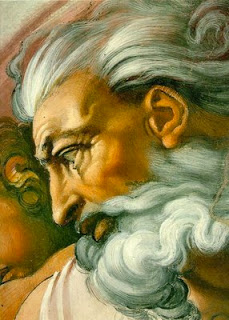 How do you see God?
Judy Cannato
wrote in her newsletter last week,
"Healthy spiritual growth is normally characterized by the evolution of images of God. Often spiritual directors ask directees to recall how their picture of the divine has changed over the decades."
What does God look like when you visualize him?  Or her?  The book, The Shack, shocked some people's image of God when the author portrayed God as a black woman. 
When I was younger God was a tall old man with long white beard sitting off in the distance. As my spiritual walk continued, God often was a more of a companion, friend, gentle guide and encourager nurturing me slowly to grow closer to him.
Last year I noticed my image of God moved away, like he was once again sitting in the corner, not close.  My spiritual director encouraged me to reflect on this movement: did He move or did I?  To be honest, I kept Him at arm's length for a while during a dry spiritual period and it was only after returning to quiet meditative prayer did I feel close once again to God.  Naming the image helped me feel reconnected with the sacred.
I invite you to reflect on your own images of God and to examine whether they empower or impede you.  Your image of God is a powerful influence on your spiritual walk even when you don't realize it. Nellie Morton wrote, "Concepts can be corrected and changed, not so images. They must be shattered or exorcised."   Strong words, aren't they?
How do you see God and how has that changes on your spiritual journey?