Ordinary Time
On the church liturgical calendar, we have entered the long season plainly called "Ordinary Time." Another mundane name for this time of year is "the Season after Pentecost."
Ho-Hum. Yawn.  Boring….You would think our collective churches could create a better name and even break this time up in more ingenious fashion.
Why Is It Called Ordinary Time?
Some scholars think the name Ordinary time derives from the word ordinal, meaning "numbered," since the Sundays of Ordinary Time, as in other seasons, are ordered numerically.
Our Focus in Ordinary Time
Ordinary Time extends from now until Advent, late November. From Advent to Pentecost, we celebrate what God has done to inaugurate the new creation through Christ. In the season after Pentecost, we celebrate what God does to empower us to live out the Gospel day to day and week to week in the context of our ordinary lives.
In our churches in Ordinary Time, we hear stories about how Jesus lived out his mission on earth. During this season the emphasis is also on how we are called to live out the Gospel while on earth.  How do we live as Christ one day at a time, not only in the notable experiences of life, but also in the mundane?
Ordinary time provides a perfect canvas on which to portray how God works through us in daily life in our families, our work, our relationships with our neighbors, in our communities, and in the world, in our care for creation, in our recreation and leisure activities.
Since most of this season occurs during warmer summer months in the northern hemisphere, the liturgical color is green – the color of growth and new life.  In ordinary time we are encouraged to grow and mature in daily expression of their faith outside the great seasons of celebration of Christmas and Easter and the great periods of mercy and grace found in Advent and Lent.
"How we spend our days is, of course, how we spend our lives."
Annie Dillard
Living in the ordinary is as challenging faith-wise as the tough times. Routine is sacred time and homes are holy ground. 
In my faith, I praise God easily in the good times. I pray hard, lean on his strength and trust in him in the difficult times. But I seem to float along, lukewarm, in ordinary daily living. God is present all the time and in all things, but I think I sense God less in the mundane moments.
My prayer this season is
to see God in the bubbles of the dish water,
to feel his presence in the cold dirt as I weed,
to spend time with him on partly cloudy, average temperature days,
to marvel at his creativity in the ant, lady bug, and fly buzzing in my house,
to be grateful for the aroma of coffee and the taste of fresh peaches,
to savor the smiles of friends and the giggles of grandchildren,
to play hide and seek with a joy filled God, peeking out in the spaces of the day.   
So listen to the Bible readings and consider how you can follow Jesus more deeply in this ordinary time of year. Pay attention to discover God in all things. Ask God what area of your spiritual walk needs nourishment.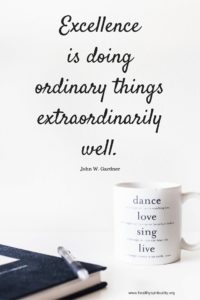 Let's make the Ordinary season, a time of growth, life, and renewal and become extraordinary messengers of the Gospel, even in the ordinary times of life.
How will you spend Ordinary Time?  Where do you find God in the commonplace?