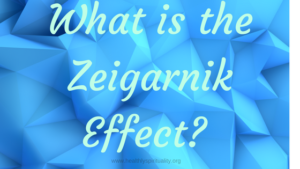 What is the Zeigarnik effect? I never heard this phrase, the Zeigarnik effect, before until a few weeks ago, then suddenly I hear/see it in multiple places. That usually is a sign for me to stop and listen: wisdom is bubbling up to teach me something…
You have experienced the Zeigarnik effect but didn't know its name. Ever wonder why a story that ends with a cliffhanger lingers in our mind? The infamous "to be continued…" Yep, this mental tension now has a name! 
The Zeigarnik effect is how our brain reacts to unfinished tasks by continuing to bring our attention to them. Once we finish, our brain eliminates them.
Bluma Zeigarnik and the Zeigarnik Effect
A Russian psychologist named Bluma Zeigarnik observed, in the 1920s that waiters could remember customers' orders that were not paid better than those already completed and paid. Her further experiments showed that humans remember the incomplete, the unfinished, more than what is done, thus stimulating us to keep moving forward.
Her experiments asked different groups of people to complete task.  Some were allowed to get things done, while others were interrupted and never finished. When asked to recall the tasks, the ones with incomplete tasks remembered twice as well as those who completed the job. The incompleteness of the job keeps it prominent in our short term memory.  And to top it all she found out our human nature has a natural bend to complete a job once we have started. So a cliff hanger is an incomplete story that we want to experience as finished.
My lessons after learning about the Zeigarnik effect
Start!! I love to procrastinate. I knew sometimes just taking the first step was the hardest and once I began a chore, it became easier. This experiment helps me understand what is going on in my brain. So take the first step – it could be a small step, just start, then the Zeigarnik effect will work positively in my favor.
                              The secret of getting ahead is getting started. 
                                                 Mark Twain
[Tweet "The secret of getting ahead is getting started. Mark Twain"]
Or don't start.  Some projects, if started could work against my productivity. Don't do those shallow ever-growing tasks first thing in the morning or they will bug us all day.  For example, most productivity experts will tell you don't check your email as one of your first jobs.  I love seeing what emails come in overnight and think "what harm will it do?"  Well now I know.  Mentally those unread letters and the daily ding of more arriving represent incomplete tasks that built up my stress and tension throughout the day.  Ahhh, Zeigarnik attacks me in a negative fashion.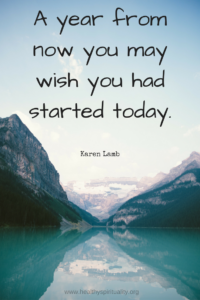 I love the sense of accomplishment. Checking off the to do's. Knowing each day I got done the most important tasks. Now I understand finishing releases the tension, the stored up stress and strain of partial pieces packed into my brain cells.

When I have lots to do and feel overwhelm I brain dump all the tasks onto a white board, then create a plan of action with small simple steps. This corralling all the things that much be done helps me start and complete the first steps, thus reducing the feeling of incompleteness.
And I can't help but relate this new idea to my faith. I believe as humans we are incomplete.  God is our missing part. Remember the quote I shared a few weeks ago about my missing Fitbit:
"What else does this craving, and this helplessness, proclaim but that there was once in man a true happiness, of which all that now remains is the empty print and trace? This he tries in vain to fill with everything around him, seeking in things that are not there the help he cannot find in those that are, though none can help, since this infinite abyss can be filled only with an infinite and immutable object; in other words by God himself"
Pascal
Our longing for God. Our yearning to return to him. The incompleteness we live without him. Our unfinished story waiting for the final chapter written by the original Author.
We ARE incomplete without God – the Zeigarnik effect on the mind and the God effect on our souls.
Had you heard about the Zeigarnik effect? How do you think it affects us spiritually?