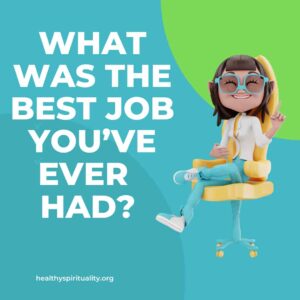 What was the best job you've ever had?  This was the question sent to me this past week from Storyworth. My daughter gave me a subscription to Storyworth for Christmas. This package includes weekly story prompts for the recipient to respond and share a story from their life. At the years end we will receive a hardcover book with all the stories collected in a legacy, keepsake compilation.
Each Monday a thought provoking, memory-stirring question pops into my email. What was your dad like when you were a child? What was your first big trip? Write about one of your best days you remember. You have the option each week to choose a different question but so far, I haven't gone that route. But last week's question almost became the first switch.
What was the best job you've ever had? Surprisingly I found this a difficult question to answer. It would have been easier to find a new question but one thing I have learned on my spiritual journey is when something stirs or jars my spirit, brings me tears, or causes me to pause – I better pay attention. A life lesson will soon be revealed.  
So I sat with the question. I felt like I was thrown deep into Rilke's words: "Be patient toward all that is unsolved in your heart and try to love the questions themselves, like locked rooms and like books that are now written in a very foreign tongue. Do not now seek the answers, which cannot be given you because you would not be able to live them. And the point is, to live everything. Live the questions now. Perhaps you will then gradually, without noticing it, live along some distant day into the answer."
The spiritual practice of questions is powerful. Questions can be an insightful spiritual tool that helps us hear God, stretch and grow and stay alive, not dormant and stale. Looking back I have posted in the past the value of allowing questions to guide us on our faith journey and yet I was once again surprised by this question.  So…
I let the question rest, then rise like leaven dough.
I revisited past jobs enjoying some memories and naming the sorrows rising from others.
I remembered what each position taught me and how the people and work shaped me.
This question brought a delightful conversation between my husband and me.  He is more of the pessimist, yet he recalled and relished in the joyful memories. Me, the optimistic one, wallowed in dark difficult recollections that still stirred up anxiety and nausea.  
He even observed I never considered my roles as wife, mother and grandmother in my search for the answer. We debated the definition of "job" and for a time I felt guilty I didn't name those parts of me as my favorite but I felt there was more to learn from a different answer,
The true epiphany arrived several days later.
What was the best job I've ever had? The one I hold now. My position of Deacon and as a writer. Walking as a companion with others within my church and as a spiritual director and playing and creating with letters and words matches my core calling. This is who God created me to be. A strong sense of puzzle pieces fitting together precisely. All my other jobs were good for that time in my life  – but today's work aligns best with my soul.
An ah-ha moment filled with joy, contentment, and peace. A life-giving awareness I would have lost if I had ran from that question. A gift from God!
What question are you avoiding? Or perhaps this may be an
easier question to ask:
What was the best job you've ever had?