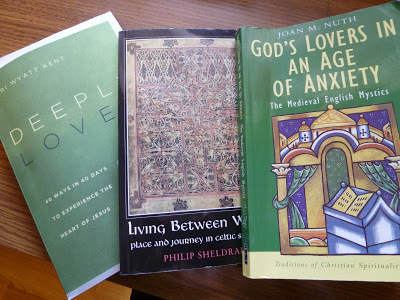 Ohhh, I do love books.  Right now I am reading or just finished several really good ones and wanted them with you.
1. Keri Wyatt Kent is one of my favorite authors. I love how her words in her books, articles and on her blog invite me closer to God.
I love her first story of the foster parents facing the challenge of raising a four year old boy whose roots run deep in poverty, illness and abandonment.
"When they tucked him in at night they ask him, `Jonathan, when God looks at you, what does he say?" And they have taught him to answer, "He says, `I sure do love that little boy!" "The truth is, God sure does love you. When he looks at you, his first thought is love…Augustine asserted, "God loves each of us like an only child."
This book is rich with Scripture, practical wisdom and encouragement. I highly recommend it.
 Katharine compares Advent to wearing new glasses. "It gives us the chance to wander through a familiar, beautiful story and maybe notice things we hadn't seen before." and her words of wisdom do shine a light on this loved and well known story.
This is THE devotional I am reading each day during Advent. Great book!
3. My kindle holds the book To Heaven and Back by Mary C. Neal MD and I read this on my earlier trip to Texas. This is a story of a physician who has a life after death experience following a kayaking accident in Chile.  She is forever changed and even prepared for future events. This is an interesting read.  It appealed to me since she is a doctor and does write more from a factual, not sappy point of view. 
She wants people to know "God's unconditional love for each of us is intense, complete, and is reflected in all of Heaven. Before we return to Heaven, our real home, we have an incredible opportunity on Earth to face challenges that will help us learn, grow and to become more Christ-like in the fruits of our spirit. Our time is so short that we need to be about God's business every day."
All of the above books I did receive at not cost in exchange for a  book review. I was not obligated to give a good report.
4. I have several books on my night stand that I read in preparation for my pilgrimage to Scotland and England.
God's Lovers in an Age of Anxiety addresses the Medieval English Mystics we learned about while on the journey. It contains one-chapter biographies of Richard Rolle, Walter Hilton, Julian of Norwich, Margery Kempe and information about the Cloud of the Unknowing.
A great overview of the spirituality and history of that time period.
Living Between Worlds by Philip Sheldrake is a wonderful overview of Celtic Spirituality. I really liked his last chapter describing Iona, its remarkable history, geography and spirituality.
Books fill my mind and heart and draw me closer to God in so many ways.
What are you reading lately that has touched you?