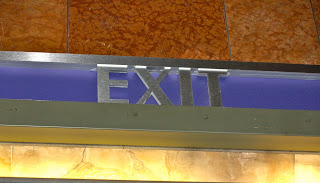 One daily post she sent out in August continues to resonate with me. Rubin writes:
"A while back, when I ran into an old family friend, he said, "Let me tell you one of my personal secrets for happiness: Control your exit."
"'Control your exit?'" I asked blankly. "What exactly does that mean?"
"It means, always be able to leave when you want. Drive yourself to a party instead of getting a ride, so you can leave when you're ready. . . 
This resolution struck me as a slightly anti-social resolution, but I could see the sense of it…
It occurs to me that "Control your exit" is advice that's figuratively true, too. For me, a memorable piece of advice from Stephen Covey's classic

The 7 Habits of Highly Effective People

is Begin with the end in mind. That is (if I remember correctly), know where you want to go. When you start or do something, maintain a vision of where you're headed…
The opposite of a profound truth is also true. In some situations, not controlling your exit would lead to happiness. There's a lot of happiness to be gained from spontaneity, impulsive adventures, and unpredictable undertakings. Even in those cases, however, it's better mindfully to embrace this idea of uncertainty – to know that you're deliberately choosing to give up control of your exit and to take the pathless path – rather than to have it take you unawares."
Control your exit. This simple three-word comment stimulated my prayers and journaling lately. Here are some of my thoughts:
I know me trying to control everything is spiritually stifling. God is in control, not me. I really don't have any control over my exit plans.
I get discourage over daily details and forget to live knowing God has my exit plan safely in His hands.
When my final exit occurs, what legacy will I leave?
Forget about the exit. I love the thrill and freedom of living spontaneity and being open and flexible as life emerges before me.
I prefer to live more in the present than in some future exit mode.
Often we are told to live each day as if it were our last one – I wonder if I would enjoy each day better with fresh eyes and value each moment with more sacred reverence if I lived with the end in mind.
When driving on vacation it helps to anticipate and know when you need to exit the highway, but don't get so wrapped up watching for all the traffic signs, you miss the scenery surrounding you.
So you can see the three little words: Control Your Exit – got my mind running and spark lots of conversations with the Lord.
I am curious – What does the phrase Control Your Exit – mean to you?