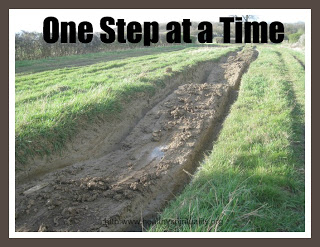 Where were you ten years ago?
2003.
I took out my journal from that year this morning and travelled back in time.
Work drove me crazy that year. I know the financial burdens, the personnel issues and the ongoing less than happy job satisfaction I identified that year, steered me to my eventual early retirement from that position in 2006.
We remodeled the kitchen. If you ever tore up your house for a major renovation, you know exactly how I felt ten years ago.
My brother-in-law died.
My kids all experienced tensions, decisions and restlessness.
And I answered God's call to step out of my comfort zone and into new adventures. The first holy invitation opened with the beginning of my journey to become a spiritual director that year. I completed that wonderful, still evolving process in 2006.
My journal records another significant call that year: November 20, 2003.
I had been praying for guidance in the study to be an associate in ministry or what is sometimes called an AiM. An AiM is a recognized lay position within the Lutheran church that assists with a specific ministry.
To be honest I wasn't sure I wanted to go that route. I would have to apply, get references, study online for three years, pass psychological testing (Don't laugh. My family told me they would test me and probably commit me permanently to an institution. HA!), and complete a supervised field experience of at least 600 hours. Throughout the process the candidacy committee monitors your progress through interviews, paperwork and approvals of each step.
WHEW! I really didn't think taking this step was a good idea with everything else going on in my life. I would be absolutely crazy to attempt this direction And who was I to think I was worthy of this type of calling?
But November 20 2003 changed everything. As I drove east  towards Bryan, Ohio on State Route 34, just west of the intersection with State Route 576, I chatted with God about all that was going on in my daily madness.
I heard God say, "Yes!"
I didn't believe I heard that. My imagination? Then I heard it again,
Ok, Lord. yes to what? I am not sure what you are telling me.
No details. Just a simple, but resounding YES. What did this mean?
The next few days, I journaled.  I talked with others, especially those who knew me and those with spiritual wisdom. My pastor heard my story and encouraged me to move forward. My family supported me.
I prayed. I listened.
Slowly the muddy waters settled. Discernment led me to believe God was saying YES to the call to become an AiM.
 Ok, Lord, I am not sure what I am doing. I will take the next step and You better stop me if You don't want me to do this.
That was ten years ago.
This past Sunday, April 7, St. Peter's Lutheran Church called me to be an AiM on their staff.
A new door is now opened in my journey with the Lord.
Were the past ten years easy?  No.
Was the direction God was leading me clear? Only occasionally.
Did everything happen in my timing? Certainly not when I wanted things to occur, but looking backwards I can tell God was in control.
Rereading those journals, I see God's hand on my every move, guiding me, creating opportunities out of nothingness, and always being present.
GOD IS ALWAYS calling us! But there are distinctive moments in this call of his, moments which leave a permanent mark on us—moments which we never forget.
Discernment often isn't clear. Most of the time God just shows us the next step to take and our job is to be faithful and step forward in trust.
One step at a time.
Thank you Lord for this new opportunity. May I be Your servant in this new adventure.
For I know the plans I have for you," declares the Lord, "plans to prosper you and not to harm you, plans to give you hope and a future.
Looking back 10 years ago, what have you learn from God?