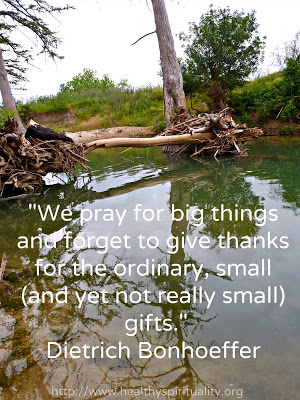 The Pilgrims made seven times more graves than huts. 
 

No Americans have been more impoverished than these who,
 

nevertheless, set aside a day of thanksgiving. 
Blessings are oftentimes not valued till they are gone.
Gratitude is the memory of the heart.
Gratitude makes sense of our past, 
and creates a vision for tomorrow.
"When you drink the water, 
"Gratitude is the sign of noble souls."
"Perhaps it takes a purer faith to praise God for unrealized blessings than for those we once enjoyed
You say grace before meals. All right.
 

But I say grace before the concert and the opera, and grace
before the play and pantomime,
and grace before I open a book,
and grace before sketching, painting, swimming, fencing, boxing, walking, playing, dancing and grace before I dip the pen in the ink.
"One of the very first things I figured out about life is that it's better to be a grateful person than a grumpy one,
because you have to live in the same world either way,
and if you're grateful, you have more fun."
Thou hast given so much to me,

Give one thing more, a grateful heart;

Not thankful when it pleaseth me,

As if Thy blessings had spare days,

But such a heart whose pulse may be Thy praise.