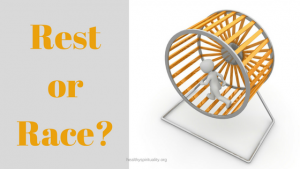 "Wow! I need a rest!"
I lamented these words yesterday out loud to no one expect my own weary soul.  After 10 days of busyness, crazy schedule, dashing from one meeting/project to another, wearing different hats and carrying cumbersome expectations, all I wanted to do was to stop the hamster wheel.
Reading is an essential self-care joy that renews my soul. I intentionally chose last evening to put my jammies on early and my feet up, snuggle under a warm blanket and to open a book. Ahhh, the tiring, tedious tension trickled from my heart. The quiet whisper of rest revived me.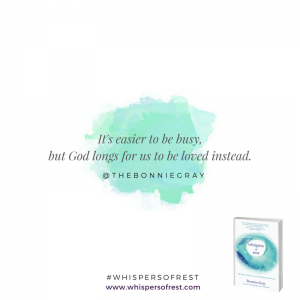 Whispers of Rest
Whispers of Rest – 40 Days of God's Love to Revitalize Your Soul – a new release by Bonnie Gray, arrived at my home at just the right time. I received this book free as I am a member of her book launch team and feel so blessed to read its words. I am under no obligation to give a good review, but want you to do know this is a wonderful devotional to add to your time with God.
This 40-day devotional slowed me down and reminded me I am NOT a hamster spinning in an endless wheel. but a child of God. She writes, "This journey of rest will refresh your spirit with the renewing touch of God's love and bring back your spark, too. To be God's Beloved."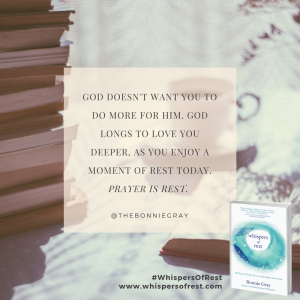 The book is rich with inspirational quotes and scripture and a unique daily prayer prompt. I especially like her use of a one word touchstone prayers from scripture and soul care tips to draw us into God's presence throughout the day. This book is a wonderful daily dose of the divine in her thought filled reflections. Reading her words is like having a spiritual conversation with good friend.
I found the needed quiet and rest in this book.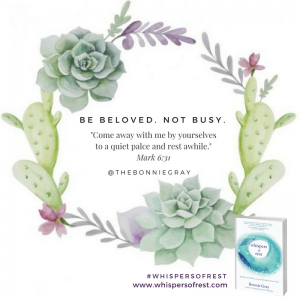 You can order this book on Amazon or at www.whispersofrest.com where there are free bonus gifts too.
What book have you read lately that helped you rest?  How do bring rest to a weary soul?