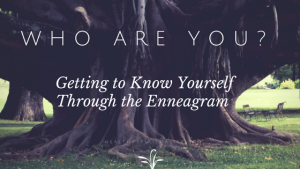 Have you ever heard of the Enneagram? Think you know yourself?
Each year I get to know myself at a deeper level and am slowly understanding how God wired me. I find as I journey through this life, I am accepting and being more compassion of this soul created by God.
I'll journal something and am shocked to reread the words as buried emotions drip from my pen and my heart.
My spiritual director asks me a probing question that help me pause and see my actions and behavior in a new light.
I quiet myself in the early morning and listen to God. His gentle wisdom guides my self- understanding as a child of God.
I mentioned last week a self-assessment I recently completed. You can read that post here.
After talking with several of you about that test and what we all learned and pondered, I remembered a book I recently purchased call The Complete Enneagram – 27 Paths to Greater Self Knowledge by Beatrice Chestnut. More light to the age-old question we all face: Who am I?
The Enneagram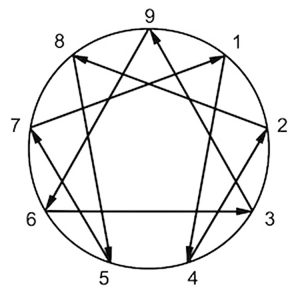 The word Enneagram comes from the Greek language. Ennea mean "nine" and gram means "point." The Enneagram looks like a circle with nine points representing nine personality types.
The Enneagram has ancient roots both in Christian, Judaism, and Islam beliefs. The Desert Mothers and Fathers, Christians wise teachers from early Christianity, contributed to the system. Some people may caution us against the use of the Enneagram, but like many personality assessments, it is a tool, not a religion.
The Enneagram helps us identify our inborn temperament. What are our basic personality traits, both positive and negative? Knowing how God created us help us discover our unique gifts and brings awareness of why we do the things we do. It opens our heart to bring us closer to God and melt into the great Potter hands for being shaped by him. There is wholeness when we are our true selves as God meant us to be.
Who looks outside, dreams; who looks inside, awakes.
 Carl Jung 

What I am Learning through the Enneagram
Self-awareness is our capacity to stand apart from ourselves and examine our thinking, our motives, our history, our scripts, our actions, and our habits and tendencies.
Stephen Covey
Did you know not everyone thinks like you do? Sees the world like you do? Perceives other people needs, communication, and behavior like you do?
Of course, I am being factious asking those questions, but often our first reaction to others, to ourselves and even to God comes from our own personal lens. How I see the world differs from how you understand through your eyes.
Here are some benefits I am experiencing as I learn more about myself through self-reflection, self-assessments, and listening to the Creator.
Self Discovery – As I peel off the layers of my ego, defense mechanisms, and false self, I see a glitter of something shiny. A spark under the mud of the world. That essence of good that God planted within me.
Knowing the structure of my personality increases my compassion for both myself, then for others. I see my gifts and my limitations. I identify ways I hide from myself and from God.
Unconscious patterns of behavior emerge into the light. Now I understand why certain fears continue to obscure my way. Why I prefer comfortable ruts and strike out in self-protective habits without thinking. It is good the ego protects us, but it often isn't the wisest boss in our lives.
For example, I am a number three on the Enneagram. The basic fear for 3's is being rejected. I know that is my default when I interact with others. Think about how the fear of being rejected impacts my relationship with God.  No wonder I struggle with that emotion in all my relationships. 
As long as our habit patterns are hidden backstage, they will remain unchanged.
As soon as we bring them up onto the stage of our mind and shine the spotlight of awareness on them, they will inevitably change.
Jan Chozen Bays
Self-awareness – Becoming more self-aware doesn't give me excuses for my behavior, but offers me understanding why I do the things I do. I now see when I am under pressure, fatigued, or discouraged, I resort to my automatic mode.
My first and impulsive reaction is not always the healthiest. Knowing how I am basically wired I recognized and choose better directions. I understand, acknowledge, and consider options on how to react and feel.
I am learning to identify patterns earlier and adjust how I react. My restrictive habits are more visible for me to see. I can "catch myself in the act" before I proceed too far down the wrong path. Knowing 3's love to achieve, I now laugh when I get excited to check things off my to do list.  Some accomplishments give me energy and a sense of worth.
The Enneagram helps me find the names, the words to describe my soul. I believe we have to be careful with these assessments too – we are NOT a box to be labeled; God wouldn't confine us like this since he is transforming us throughout our lives. God is always More and he calls us to be more too. Remember these tests are just tools.  We also need to use our own brain and listen to God's truth to sift through the information to discover what God want us to learn.
Self- acceptance. These types of assessments help me see myself through the Creator's eyes. God wired me initially – the Great engineer knew what he was doing. Life then evolves into the adventure of learning to love myself and others. When I accept myself, love myself, I have more love, strength, motivation to love others and see them as God created.
I am gentle with myself, knowing my limitations and this leads to being more accepting and understanding of others. God gives me the strength then to let go of negative patterns of reacting and thinking. I gain patience in dealing with my flaws and the challenges from others when they too are not in the best mode of behavior.
A lifelong adventure of discovery, awareness, and acceptance – not a bad path at all to explore.
Resources for the Enneagram
The Enneagram is complex and takes time to study and learn. You can quickly become overwhelmed, but its richness, taken in small steps, is a powerful tool.
Here are some resources for you to explore more:
For a basic test to see what your number may be, go to this website.  You will have to give your email address but it's worth it.
The same people who do the test above have a book available  The Road Back to You and an interesting podcast by the same name.    
One more book that may help you discover more: The Wisdom of the Enneagram by Don Richard Riso and Russ Hudson.
Here are two other resource pages about the Enneagram:
And you? When will you begin that long journey into yourself?
 Rumi
Remember the Enneagram is just a tool, a way to gain self-understanding. Think of it as a growth tool, knowing God created us a complex, amazing beings, capable of being transformed into his image.
God is the creator and he invites us to come along on this wild adventure of life, learning, growing, and becoming.
[bctt tweet="God is the creator and he invites us to come along on this wild adventure of life, learning, growing, and becoming. Jean Wise" username="Jeanwise"]
Have you used the Enneagram? What is your number and what has it taught you about yourself?