Ok, I am supposed to be grateful, right?
Work on the spiritual disciple of gratitude.
Embrace Thanksgiving as THEday to share what we are thankful for with the family – the perfect family smiling around the dinner table with halos abounding and hearts full of love.
My reality: Kitchen Nightmare or Lethal Cooking.
To be honest, last Thursday was not THAT bad, but by midmorning, by myself, preparing all the food, I sipped on a mug of self-pity. I wanted to make a huge Thanksgiving meal. My family insists that every year I cook for an army. So I set myself up for this annual why-me-scenario. I do it to myself!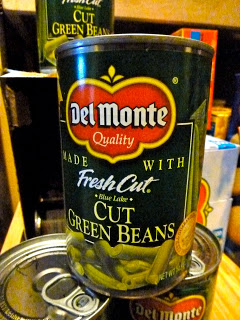 The green bean casserole broke me.
You know the concoction – heavy laden with calories and memories. Green beans, those yummy eat from the can onion rings and cream of mushroom soup. I have tried lighter versions, but for this one day, I am enjoying the real recipe.
So I am by myself, feeling sorry with all the fixing to do, and trying my best to find thanks. 
Yep, the weather is good. 
Yep, I have healthy family coming over. 
Yep, the aroma of turkey fills the house.
Why didn't I feel grateful? What was wrong with me? Was all this listing of things I am thankful for just rote? Habit? Meaningless internal chatter?
I opened two cans of green beans to pour into the dish. 
"mmm, maybe I should add one more can. After all Katie said the kids really liked green beans fixed this way."
Off to the pantry for one more can of green beans.
What a simple ordinary act – nothing special – routine reaching into a cupboard for one more can.
One reality of its meaning of having plenty, of experiencing enough.
My hand trembled as I held that can. My lower lip quivered. My self-pity shattered by this moment stilled by overwhelming gratefulness.
I have a pantry full of green beans.
I have a pantry full of food.
Thank You – the only prayer I could murmur in the hallway clutching that can of beans.
Thanksgiving finally began when a plain can of green beans fractured my frozen heart and bathed me with gratitude.
Gratitude is powerful – how has being thankful helped you on your spiritual walk?