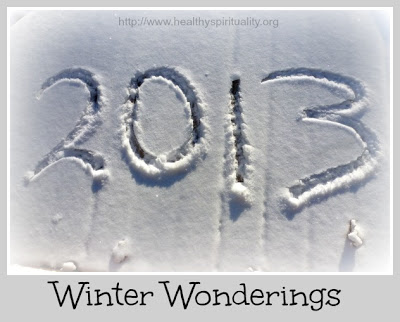 Here are some winter wonderings.
February is the longest month of the year. Or least it always seems that way to me in cold wintry Ohio.
I once suggested to God that He move February to between July and August, so we would have an extra month of summer sunshine and one less month of dreary chilly mornings. Of course He never did this; perhaps that is why He is God and I am not. (Anyway some of my friends from the Southern Hemisphere probably wouldn't have liked that either.)
Winter is a time of rest of my soul and reflection. During Lent and this frosty time of year I am wondering today about my Month of Writing Letters, my ongoing lessons about my word(s) of the year: STRETCH and ENOUGH, and my attempts at honoring the Sabbath.
Handwritten Letters During Winter
So far I have written and mailed 26 notes to friends, some I see often and some I haven't even met. What a gift this has been to me. I have received such sweet letters and notes from others – several surprising ones too. I am very grateful I participated in this event.
The challenge now?  Keep writing a few letters each month.
Stretch and Enough – Words for Winter
These words continue to form the foundation of my contemplative prayers and my journaling.
New insights:  I fully believe to be stretched involves getting out of my comfort zone, taking risks and learning new things. Stretching and Enough – are two movement of the spiritual life.
I realized this past weekend that stretch could also described my stretching out to reach towards God.
My outward hands – empty, open, willing – held upward, stretching towards heaven represent my yearning for God. I am reaching out for His mercy, peace, justice, truth and love.
The other spiritual movement is fully embracing the belief that God is enough. In His "enoughness," I find that mercy, peace, justice, truth and love I am stretching for.
I never really connected these words before. They are the two ends of a teeter-totter, balancing one another.
Stretch is the longing,
Enough is the loving.
Sabbath Winter
Better one handful with tranquility than two handfuls with toil and chasing after the wind.
As I practice Sabbath more, honoring this day of rest, I am actually enjoying it and looking forward to a day unplugged from the world and plugged into God and my family. I wrote a few weeks ago about my
ongoing failure at Sabbath keeping.
The biggest challenge has been turning off the technology from Saturday evening to mid afternoon Sunday but now the peace and quiet calls louder to my heart than the ting of emails. Interesting insight is what I was most reluctant to give up has now become a source of delight to let go. I am disconnecting in order to connect.
One book I am studying in this Sabbath exploration is "Keeping the Sabbath Wholly" by Marva Dawn. I like her outline of ceasing, resting, embracing and feasting. Not all negative focused on what we cannot do but embracing this Holy Day for all it offers.
"What we are depends on what the Sabbath is to us."
How have you grown spiritually this winter?