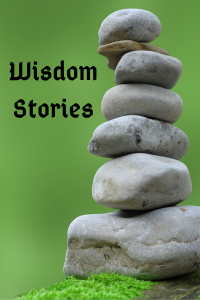 Stories provide direction for our discernment, depth to our being, and color to our lives.
I love stories. I collect stories. Stories bring smiles to my soul.
One type of story bringing insight and inspiration are wisdom stories.
Compiling stories that stir my mind and heart is one step I have taken this year in my exploration of my theme of WWW. I wrote about my WWW's – wonder, wisdom, and whimsey – on this blog post. Of the three WWW's, wisdom has been the most difficult one for me to capture clearly in my soul. Thus, I began with stories and thought I would share a few of the treasures I have found.
Ready for Stories Plus a Few Wise Quotes?
We don't receive wisdom; we must discover it for ourselves after a journey that no one can take from us or spare us. 
Marcel Proust
******
Wholeness is the goal, but wholeness does not mean perfection. It means embracing brokenness as an integral part of life. The sooner we understand this, the better. It's a truth that can set us free to live well, to love well and, in the end, to die well.
Parker J Palmer
******
To cultivate wisdom, you need not read another book, nor watch another Ted talk, nor earn another academic degree, nor visit another monastery, nor travel to the ends of the earth. Be where you are, which is where God is with you. Say "yes" to life on the terms that God is giving you life just now; pay attention to your life.
Br. Curtis Almquist
******
Every day after school, the son of a well-known Rabbi would enter his house, place his backpack on the dining room table, leave the house through the back door and head into the woods behind the house.
At first, the Rabbi gave little thought to his son's ritual. Until it continued, for days, and then for weeks. Every day, out into the woods for almost a half hour. The Rabbi grew concerned. "My son," he asked one day. "I notice that every day you leave our home to spend time in the woods. What is it you are doing there?"
"Oh papa," the son replied. "There is no need to worry. I go into the woods to pray. It is in the woods that I can talk to God."
Oh," the Rabbi said, clearly relieved. "But you should know, as the son of a Rabbi, that God is the same everywhere."
Yes, papa. I know that God is the same everywhere. But I am not."
******
"There is a difference between knowledge and wisdom, between someone who's a brain and someone to whom we bring our pain. Someone wise does know which things can't be changed and which can, and he or she is at peace with that. The wise person accepts things as they are, accepts his or her position in the universe: far better than a rock or a carrot or a pig, far less than God. Science is not God, nor is progress, nor is money, nor, most certainly, am I.
Wisdom doesn't come from suffering. If it did, animals in experimental laboratories would be wiser than all of us. Wisdom comes from suffering reflected on, accepted, assimilated. But if we are so busy doing and experiencing that we have no time for quiet reflection, then life becomes not a connected whole but a pile of beads without a string. We have to take time to withdraw from the transitory in order to discover the permanent."
William J. O'Malley, SJ
******
"A wise woman who was traveling in the mountains found a precious stone in a stream. The next day she met another traveler who was hungry, and the wise woman opened her bag to share her food. The hungry traveler saw the precious stone and asked the woman to give it to him. She did so without hesitation. The traveler left, rejoicing in his good fortune. He knew the stone was worth enough to give him security for a lifetime. But a few days later he came back to return the stone to the wise woman.
"I've been thinking," he said, "I know how valuable the stone is, but I give it back in the hope that you can give me something even more precious. Give me what you have within you that enabled you to give me something more precious. Give me what you have within you that enabled you to give me the stone."
Author Unknown
******
An old pencil maker took his newest pencil aside, just before he was about to pack him into a box. Imagining the little fellow as a person he recalled a few things about the pencil.
"There are five things you need to know," he said to his pencil, "before I send you out into the world. Always remember these five things – never forget them – and you will become the best pencil you can be!
"The first thing is to remember that you will be able to do many great things, but only if you put yourself in someone else's hands.
"From time to time, you will experience a painful sharpening but remember that this will make you a better pencil.
"Also, keep in mind that you will be able to correct any mistakes you might make along the way.
"And the most important part of you is what's on the inside.
"And remember this, as well, upon every surface that you are used, you must leave your mark. No matter what else happens, you must continue to write."
It seemed the pencil listened to him and promised he would remember these five things so that he could live his life with heart and purpose."
What wisdom has touched your heart lately?