I witnessed a wise lesson from a four-year-old last Sunday.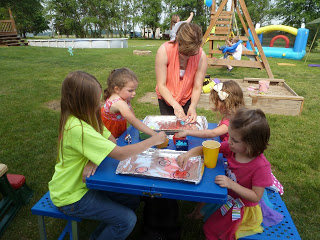 Kyla, lower right corner, with friends making crafts
My granddaughter, Kyla, celebrated her fourth birthday with a huge party. Both adults and kids attended. All the elements of a grand festivity took place: welcoming guests, playtime, craft, opening gifts, blowing out the candles while singing the traditional birthday song and lots of decorated cake.
Everyday leading up to the party, if you would ask Kyla what she wanted, she only had one answer:  a pink bike. I heard this multiple times. When I looked over the large pile of presents waiting for her, sure enough by the edge of the table was a large pink plastic wrapped gift.
Kyla opened her presents, remembering most of the time to say thank you. About half way through the process, she turned to the large wrapped item, smiled and opened it. Pealing back the wrapping, a big garden set, complete with multiple tools appropriate for her age, awaited her.
She thanked her aunt who bought such a creative gift and continued opening gifts. I began to worry. mmmm, there isn't another large package in sight. My grandma heart filled with sadness. If I had only known, I would have purchased that for her to make her day.
Kyla opened the last gift and found a pink Minnie-Mouse bike helmet from great Aunt Ruthie. She couldn't wait to remove all the cardboard so just fastened it on her head, with part of the packaging still intact and grinning from ear to ear.
"Thank everyone once again for all your gifts, Kyla," her mom reminded her.
"Thanks everyone," she said with gusto.
"Did you get everything you wanted?" prompted mommy.
"Sure did," smiled Kyla.
"You did?" Mommy asked.
"Well I didn't get my bike. I did get a helmet, so I will just pretend I have a bike."
Everyone in attendance paused and listened to this charming four-year-old show us how to deal with bumps in life. Instead of focusing on what she didn't have, she enjoyed what she did receive. With hope we can enjoy what we hold each day and made the best with whatever life presents us.
By the way, her mom immediately suggested she look in the garage where a very special pink bike awaited her.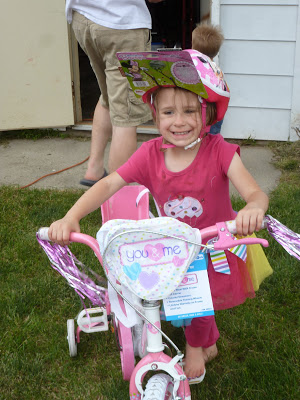 Life doesn't always end up with this type of happy ending. We certainly don't get all we want and often never even get close. Most of the time our journey is based on hope and faith for things yet to come. Living with gratitude for the gifts offered each moment nourishes and strengthens us.
For this grandma – I am going to fasten my helmet of what I do have in life with joy and thanksgiving. And just maybe that deep desire implanted in my soul and hidden someplace far away will eventually arrive. A very wise four year old told me that!
How do you hold onto hope?