How do you relate to God?
Is He the Great commander giving us laws to live by or one we feel we are obligated to serve? Is He the Almighty Genie in the sky?
I know in my heart what I am supposed to believe about God, but find myself many times operating with an entirely different set of images that affect my relationship with the Lord.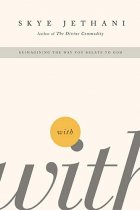 With – Reimaging the Way you Relate to God
is a new book by
Skye Jethani.

The tag line intrigued me:
"
Stop living your life under, over, from, and for God and start living in communion with Him."
Jethani describes five postures that Christians often take toward God because of the way they view Him. He writes a chapter on the four most common ways: under, over, from, and for.
"Life under God sees the world as governed by the capricious will of God. Life over God places immutable natural laws at the center. Life from God assumes the world orbits around the self and its desires. And life for God sees a divine mission a the core of all things."
The second half of the book expands on living WITH God, which builds on our relationship with God as the foundation. Whereas the other approaches use God in some manner, life WITH God, the goal, our deepest desire is God.
A weakness in the book is when Jethani expands living WITH God section, it is more theoretical than useful. He adds on an appendix at the end on how to implement this concept more as an afterthought. Most readers I would think would like more of the practical applications earlier in the book.
I would recommend this easy to read book that is full of stories and quotes as a great way to spark conversations within a small group about relating to God. In the back of the book there are discussion questions that would benefit a small group.
Disclosure of Material Connection: I received this book free from the publisher through the BookSneeze book review bloggers program. I was not required to write a positive review. The opinions I have expressed are my own.
On a whole WITH is a thought provoking book that will help others take a look on what they really believe about God and how the relate to Him.