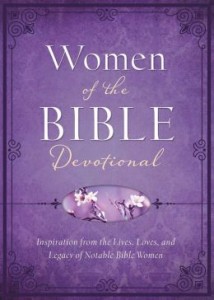 Often we don't hear the lessons from the women mentioned in the Bible. Their stories can teach, lead and direct our paths whether they are named or unnamed.
About a year ago, Barbour Publishing (the company who published my Advent devotional – Let Every Heart Prepared Him Room) asked me to be one of six women to write devotionals about the lives, loves and legacy of notable Bible women. I couldn't wait to see the list of names they sent me.
When the email arrived last January with those they wanted me to write about, I was excited to see Eve, Esther, and Elizabeth. BUT there were quite a few I really wasn't too sure about, like Eli's daughter-in-law, Elisheba, Euodia and Haggith. Who? How am I to be inspired by them?
Oh my, what have I signed up for?
I prayed. I woke up early to write. I spent time with their stories. I wrote.
And last week I held the new book, newly published, written with five other writers – Women of the Bible Devotional.
God has lessons planted around us, even when we can't see them. Sometimes just listening quietly to the unnamed, the not so good and even the terrible, rough spots in life, we can hear him. 
I learned that lesson writing these devotionals. My first reaction was the fear I wouldn't know what to write. My second reaction brimmed with blind exasperation of not knowing where all this was leading. My third reaction of guess I better dig in and shut up the whining and listen – all led to words – God's words of help, healing and light for our way.
The book is available on line at Amazon and Barnes and Noble and I hope you check it out.
Celebrate with me this new book by leaving a comment about who is your favorite woman in the Bible and why and I will chose one commenter by random to win a copy. Deadline for comments will be Sunday evening, Feb. 8, 2015 by 6 p.m. eastern.
And the winner is, totally by a random draw:  BETH!!  I sent you an email to get your snail mail address but just in case you didn't get the email, let me know so I can send you the book. Congrats and thanks to all who left a comment.
Who is your favorite woman in the Bible and why?