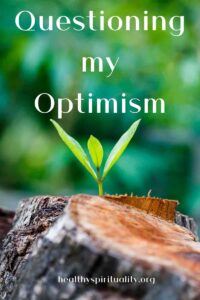 Optimism. I grew up in a serious household, with serious parents, and serious expectations.
My parents were not pessimists or realists, but they definitely didn't practice optimism. They were just focused, hard-working, deliberate people.
So most of my adult life I have dealt with my internal negative chatter and learned the skills of optimism.  Practice.  Practice. Practice.
I read books and research about optimism.  Whenever I listed my values, optimism ranked high.  I even gave talks to others about optimism. I smugly wore the new label of "Optimist" on my heart.
Yep I was proud of this new attitude that served me well into my second half of life.
You know what they say about pride.
First pride, then the crash—the bigger the ego, the harder the fall.

Proverbs 16:18  The Message
New Perspective about Optimism.
God continues to teach and form us. I am thankful for that truth, but I was surprised at this spiritual lesson.
Readers of this blog know how often I read and quote Henri Nouwen.  He is a major lamplighter for my journey. (Lamplighter? Read about this concept here.)
This quote unraveled me last week:
"While optimism makes us live as if someday soon things will soon go better for us, hope frees us from the need to predict the future and allows us to live in the present, with the deep trust that God will never leave us alone but will fulfill the deepest desires of our heart." ― Henri J.M. Nouwen,  Here and Now: Living in the Spirit 
In the same book Henri writes:
"Optimism and hope are radically different attitudes. Optimism is the expectation that things-the weather, human relationships, the economy, the political situation, and so on-will get better. Hope is the trust that God will fulfill God's promises to us in a way that leads us to true freedom. The optimist speaks about concrete changes in the future. The person of hope lives in the moment with the knowledge and trust that all of life is in good hands.

All the great spiritual leaders in history were people of hope. Abraham, Moses, Ruth, Mary, Jesus, Rumi, Gandhi, and Dorothy Day all lived with a promise in their hearts that guided them. toward the future without the need to know exactly what it would look like. Let's live with hope." – Henri Nouwen 
Yes Henri, let's live with hope.
I want to be a person of hope. My definition of optimism was narrow and confining. Hope overflows with trust, focused on God. Optimism restricts; hope frees. Optimism is more of a wish; hope is trusting in God's promise.
Some will argue this is all semantics, but I know when I read something that jars my spirit, causes me to pause and ponder, words that linger in my heart inviting back to reread over and over, I need to pay attention.
God surprised me with a new insight. Thanks be to God.
What has God taught you lately?