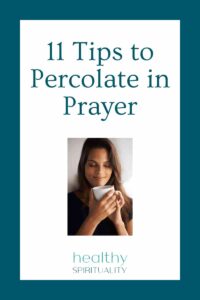 Percolate means to spread or pass through. What a lovely way to think of prayer. To percolate our day, our time, our life in prayer.
Percolate originates from Latin with "colo" meaning to worship, honor, inhabit, nurture, cultivate, filter, and purify. To allow ourselves to seep in and through prayer.
I love that image and have been intentionally soaking in God's presence during the moments of my day. Even last week in the hot humid craziness of a packed Disney World with long lines and achy feet, I smiled at God and thanked him for all his gifts. Beholding the word "percolate" centered me even in the midst of the noise of the Magic Kingdom.
Once home I began to identify what has helped me this year focus on God throughout the day and distilled 11 ideas to share with you and hopefully reinforce and cultivate prayer in my life too.
11 Tips to Percolate in Prayer
"Now in the morning, having risen a long while before daylight, He went out and departed to a solitary place; and there He prayed." Mark 1:35

"Every morning I spend fifteen minutes filling my mind full of God; and so there's no room left for worry thoughts." Howard Chandler Christy
Know your why – My deepest desire is to be with God, know God, love God more and more with all my heart, mind, and spirit. With that knowledge of my core purpose, prayer becomes a priority in all that I experience. I write this in my journal. I whisper this intention in my prayers. I wrote this at the top of my Rule of Life.
My Weight Watcher coach told me a few months ago, instead of saying "I wish" or "I will try" or "I want to," get into the habit of saying "I have decided…" I am slowly retraining my thoughts towards "I decide to percolate in prayer throughout my day." "I choose to focus on God during my moments no matter where I am." Easier said than done, but slowly this practice is deepening into my soul.
My Apple watch encourages me to deep breath several times of day. It simply vibrates, reminding me of the importance of slowly inhaling and exhaling. A practice good for the body and clears a space to stop and thank God. I add a simple "breath prayer" to each round, praising God for his presence, help, and grace.
Technology both helps and hinders my percolation. Hinder when it becomes a distraction. Help when I use various prayer apps (See this blog post for some ideas)
I fail often in this practice to percolate in prayer. Sigh. I forget. I get pulled into the rush of the day. I allow worries and to do's to deflect my focus on being. I am also sensing though to give myself grace. God understands our humanness and forgives our inconsistencies. We need to forgive ourselves and come back to our call to be faithful. I read once that an airplane continually deviates from its course and needs to be constantly corrected to stay on target. This realigning throughout the day, focusing on God, not the world, centers me on a firm foundation.
I love the practice of looking up and looking out to draw my heart closer to God. Pausing to look out the window. Taking a few moments in the garden. Nature connects us to God when we pay attention to its invitation in its beauty and miraculous details. Looking up at the stars and clouds beholding the majesty of our Lord and Creator.
Music also helps. Praying the words of a favorite hymn. Dancing to a contemporary praise song. Listening to children sing Jesus Loves Me with enthusiastic gusto.
I mentioned my Apple Watch earlier. My watch and Fitbit wiggle each hour reminding me to move frequently. I use that time to talk with God about my day, my work, my concerns, my joys. Brother Lawrence wrote, "That we should establish ourselves in a sense of God's presence, by continually conversing with him."
"Prayer should be a habitual attitude, not an occasional act." -Harry Emerson Fosdick. What habits do you do each day that could serve as a trigger for prayer? I wake up most mornings, stretch in bed and say aloud "Good Morning, God." I pray in the shower and while I wash dishes. I have listened to God's lessons while weeding in the garden or mowing the lawn. I say thank you before I eat a meal. I practice the prayer of examen as I settle in for the night.
The practice of gratitude is so powerful in cultivating a consistent prayer life. I know I too often seen what I don't have, what didn't work out, or the negative. Being open to seeing God's blessing even in the midst of so much pessimism brings me closer to God and helps me see God's presence.
I learned several years ago that smidgens of prayers throughout the day are vital, but I still yearn for longer times of solitude, stillness, and times with God. I try to at least quarterly carve out several hours or a half day at home for reading, journaling, and listening with God. I also am intentional about going away 3-4 days or more for a longer retreat.
What would you add to this list that could help us percolate in prayer?